Tatsu is a versatile Discord bot that provides a comprehensive experience to its users. With its unique global RPG game integrated into Discord communities, users can enjoy leveling up, earning currency, and competing. Moreover, Tatsu Bot features provide several exciting functionalities, including pets, server leveling, economy systems, games, and adding this bot will be discussed in this article.
The method discussed in this article will be applicable for both Discord Desktop and Mobile application.
How to Add a Tatsu Discord Bot?
Tatsu Discord bot can be added to the server by following the below steps.
Step 1: Invite Tatsu Bot
First, open the Tatsu bot's official website and then click on the "Add Tatsu" button: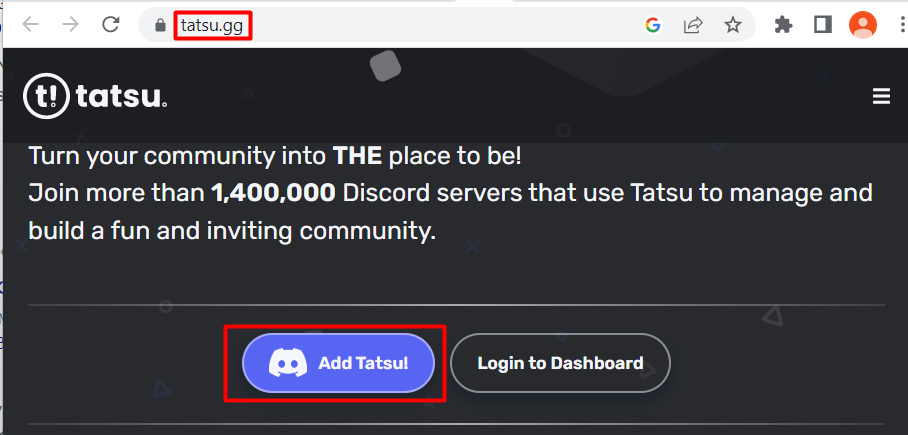 Step 2: Add Tatsu Discord Bot to Your Server
Next, you need to provide the name of the server where you want to add this bot and press the "Continue" button: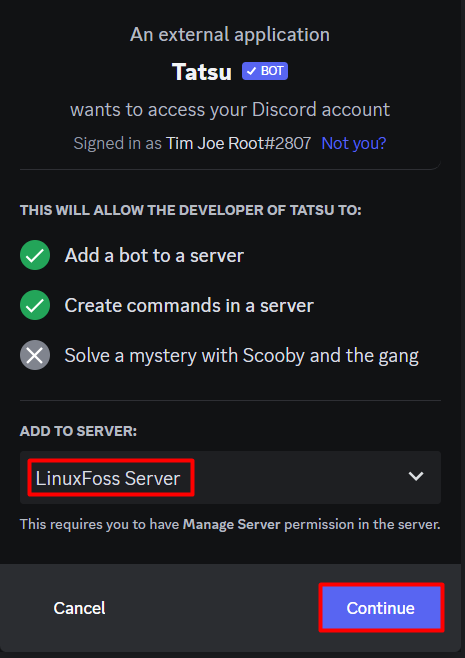 Step 3: Provide Relevant Permissions: 
Provide the relevant permission that you want to allow or disallow to this bot and the bot will be able to perform actions based on those permissions. After that, press the "Authorize" button: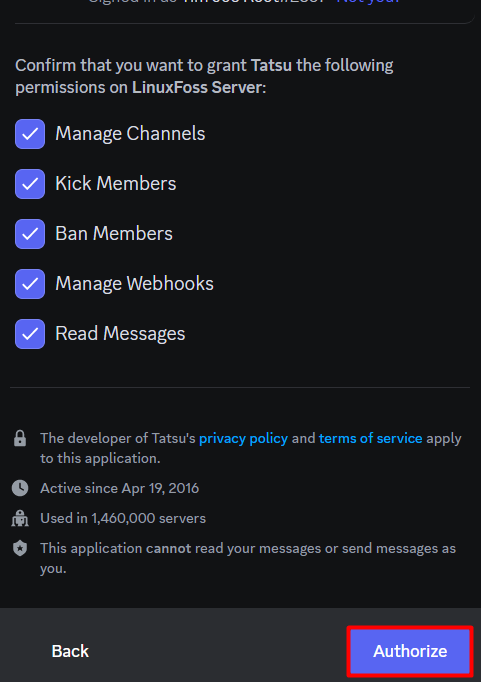 Lastly, mark the captcha for human verification and add the bot to the selected Discord server:
This is how you can add the Tatsu Discord bot to your server.
Features of Tatsu Discord Bot
Some of the key features of the Tatsu Discord bot are mentioned below:
Interactive Games: Tatsu offers a range of interactive games such as Trivia and Minesweeper that you can play with your friends on Discord.
Server Leveling and Economy Systems: Tatsu provides server leveling and economy systems that can boost the competitiveness and interactivity of your Discord server. Members can store experience points based on their engagement on the server and progress. 
Pets: Tatsu offers an exceptional feature which is a pet system that allows users to adopt virtual pets and take care of them. 
Games: In addition to interactive games, Tatsu also offers a range of traditional games that you can play with your friends on Discord such as Chess, Checkers, and Poker.
Music: Tatsu also offers a music player that allows users to listen to music directly on Discord with different formats, and users can create and manage their own playlists.
That's all for the Tatsu Discord bot.
Conclusion
Tatsu Bot is an incredibly versatile Discord bot that offers users an immersive experience with a variety of features. You can add this bot to your Discord server from the Tatsu bot's official website by clicking on the "Add Tatsu" button. Then, allow the necessary privileges to the bot and add it to your selected server. This post has explained how to add Tatsu Bot on Discord.