Anime Discord bots are designed to provide anime-related content and features within Discord servers. These bots are very popular among anime fans, as they allow users to interact with each other, share their favorite anime content, and even play games based on their favorite anime shows. Two of the most famous anime Discord bots will be discussed in this article which are mentioned below.
Naruto Botto Anime Discord Bot
"Naruto Botto" is a Discord bot that is based on the popular anime and manga series "Naruto". The bot offers a variety of features that are based on characters and events from the Naruto series.

Features of Naruto Botto
Some of the key features of Naruto Botto Discord bot are discussed below.
User Profiles: Naruto Botto bot comes with a user profile feature to view your stats, items, and ninjas.
Boss Fights:  With this bot, you can participate in Boss fights against various bosses, such as Orochimaru and Kaguya. 
Guild System: Naruto Botto bot also has a guild system where you can create your own guild or join an existing one and participate in guild wars and earn rewards.
Events: Naruto Botto bot hosts various events, such as quizzes and winners will get rewards.
Lawliet Anime Discord Bot
"Lawliet (L)", a versatile and feature-packed bot designed specifically for anime lovers which is a character from a famous anime series known as "Death Note".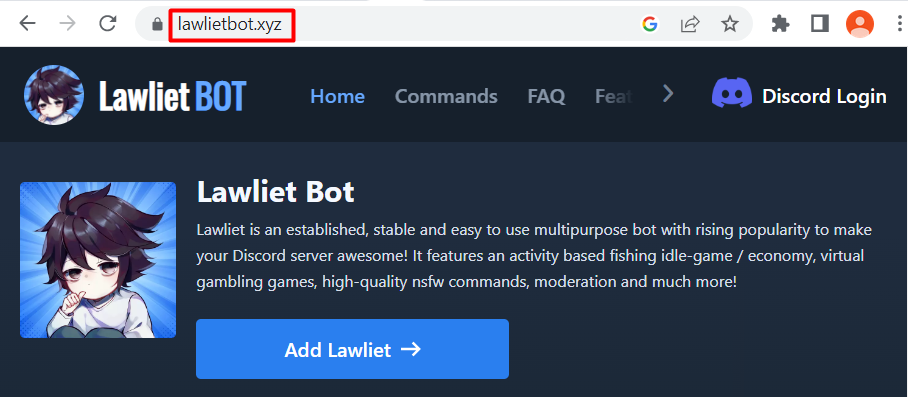 Features of Lawliet Discord Bot
Some of the key features of Lawliet Discord bot are mentioned below.
Event Roles: Lawliet offers event roles, which can be assigned to members based on their attendance at specific events. This feature is particularly useful for servers that host regular anime-related events, such as watch parties or discussion groups. 
Informative Roles: Informative roles can be assigned to members based on their interests or expertise. 
Level-Locked Roles: This feature assigns roles to users based on their activity level and the amount of time they spend on the server. It rewards loyal and active members and encourages others to participate more.
Moderation Features: Moderation is essential for maintaining a safe and positive community where users can report inappropriate behavior or content. Additionally, Lawliet has an anti-spam feature that automatically detects and removes spam messages.
That's all about the anime Discord bots.
Conclusion
Anime Discord bots have become an essential tool for anime fans looking to enhance their anime experience. With a wide range of features and functions, these bots provide a fun and interactive way for fans to engage with each other and enjoy their favorite anime content. This article has discussed two of the most well-known anime bots which are "Naruto Botto" and "Lawliet".