Discord has become a top platform for online groups and gamers, offering a forum for dialogue, teamwork, and interaction. Among the wide range of features of Discord, one best feature is that it enables users to customize the Discord profile on PC. Customizing their profile is one thing that can make their Discord experience much better.
Users may express their uniqueness, highlight their hobbies, and leave a strong impression on others by personalizing their Discord profile and this article will explain how to modify a Discord profile.
How to Edit Your Discord Profile on PC?
To customize the Discord profile on PC, users can change their username, avatar, and custom status in Discord. The methods of customizing the Discord profile have been explained in detail in the next sections. 
How do Change the Username, Avatar, and Status in your Discord Profile?
The steps listed below should be followed in order to change the username on your Discord profile.
Step 1: Launch the Discord Application on the PC
Launch the Discord application on your PC and log in using the credentials of your Discord account: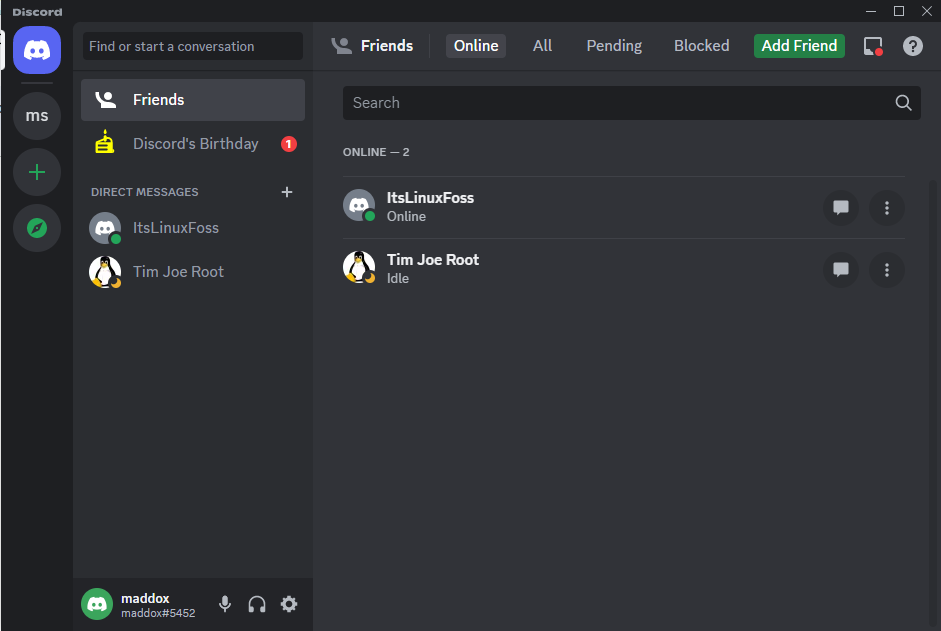 Step 2: Locate the Discord Username
Locate the Discord's username in the left bottom of the Discord's window and click on it: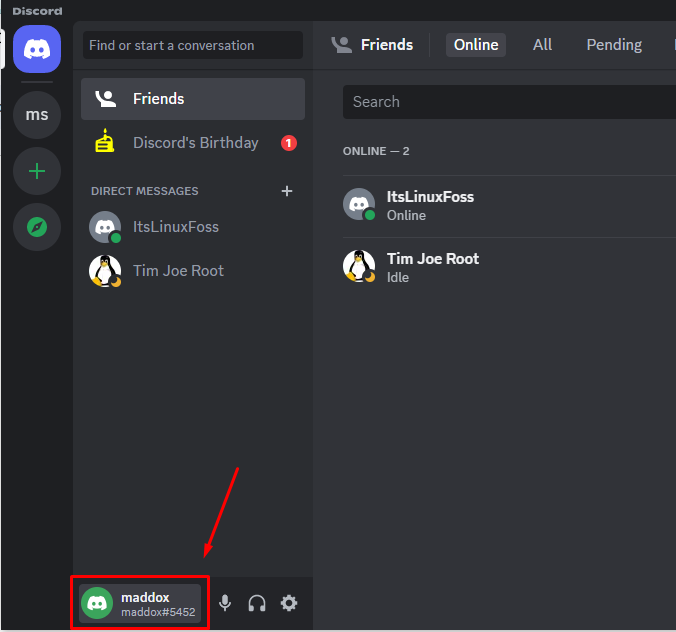 It will display the profile information: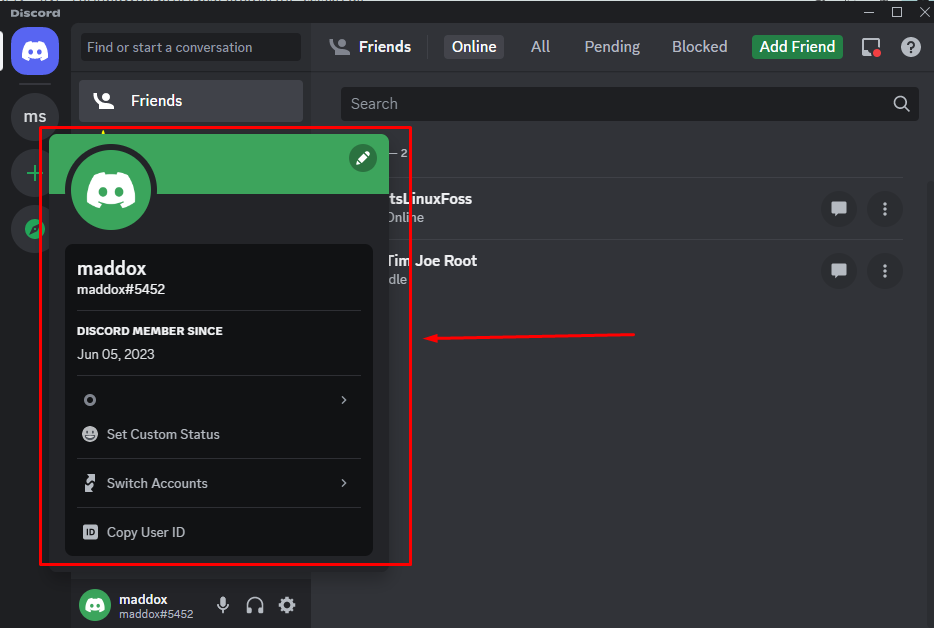 Step 3: Change the Discord's Username
Click on the pencil icon at the top of the appeared menu: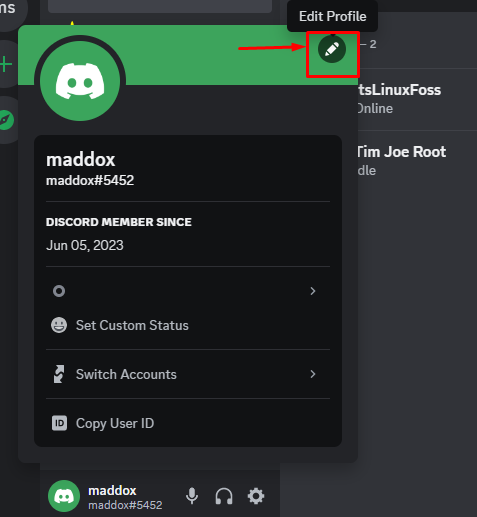 Now, click on the username box and change it with the new name: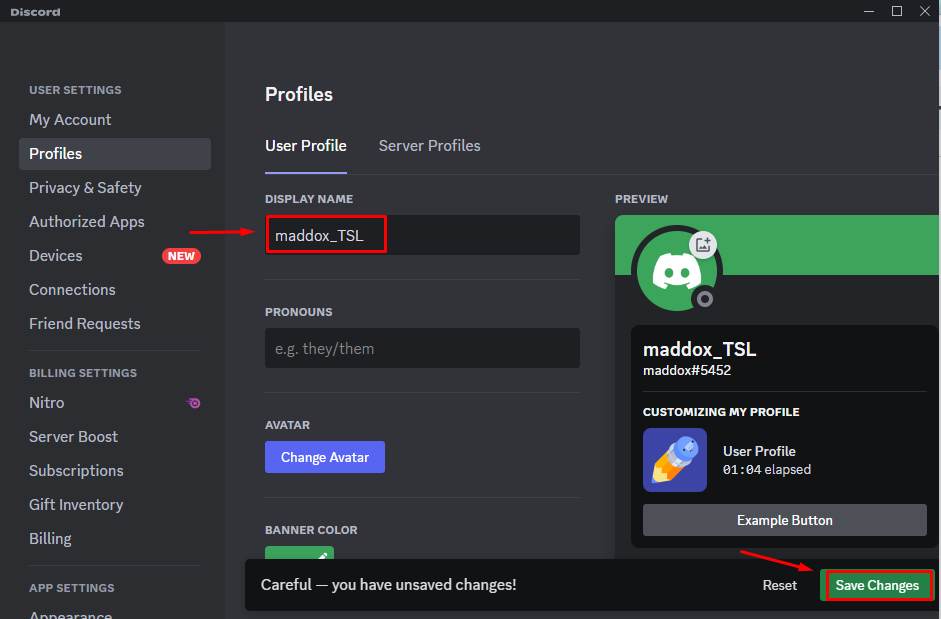 After changing the username, click on "Save Changes" to save the new username. 
Step 4: Change Discord's Profile Avatar
Now, to change the Discord profile avatar, again follow the above-explained steps to open the Discord Profile and click on the "Change Avatar" button: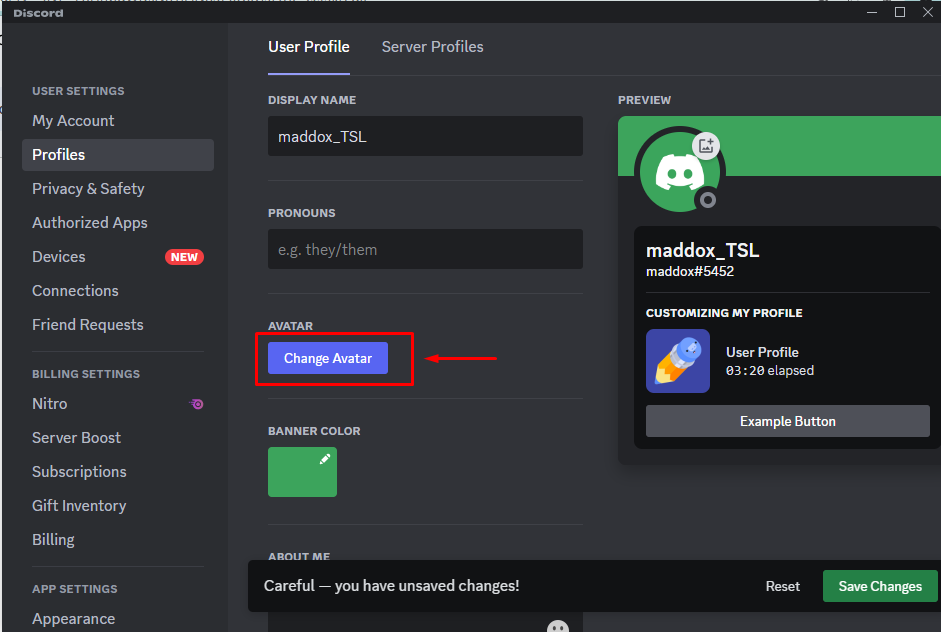 It will display two different options, either to choose a Gif or Upload an Image, choose on your own priority as I am choosing a gif: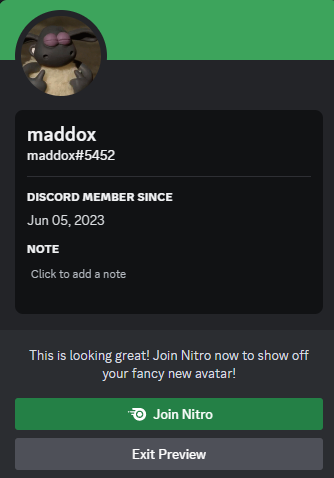 After uploading the Avatar, a preview of it will be shown. Click on the "Exit Preview" to close the preview. 
Step 5: Change the Banner Color
The banner color is the border color of Discord, which can be changed by choosing the "Banner Color" in Discord's profile editor:

We changed the banner color from green to blue: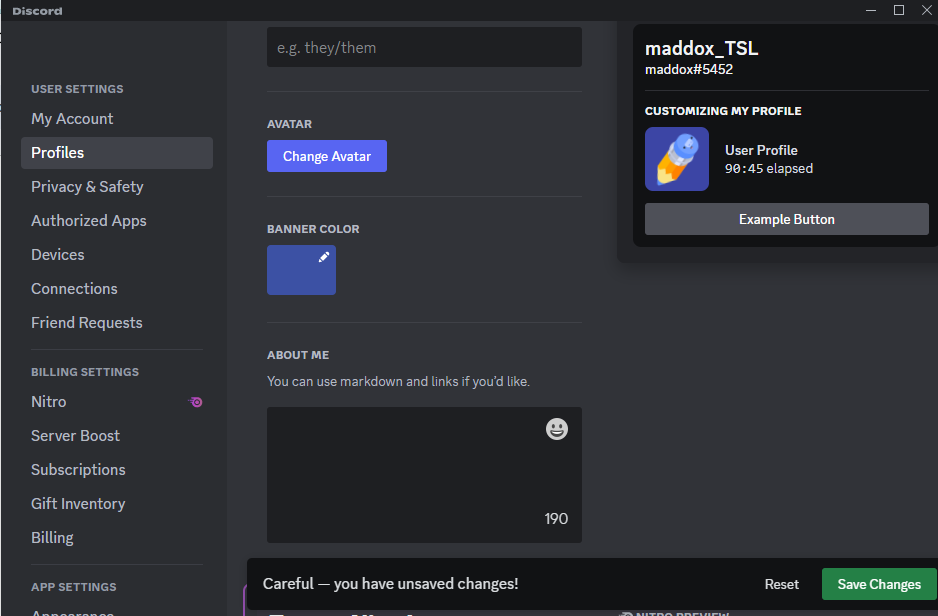 Step 6: Change the "About Me" of Discord Profile
The About Me section in the profile tells other Discord users about yourself. It can be an introductory highlight about yourself. To update the About Me, write something about yourself in the "About Me" section:
Finally, click on the "Save Changes" button to save all the changes. 
Conclusion
To customize the Discord profile on PC, users can change the username, avatar, and status in the "About Me" section to enhance the Discord experience. To access the "About Me" settings, either click on the "Profile icon" or access the Discord "User Settings". This blog explains the steps to customize the Discord Profile on PC with the easy steps.