Discord is the most abundantly used application specially designed for gamers to associate with friends and gaming communities. As a Discord user, you can notice the appearance of the HypeSquad option in the user's settings. This option was first launched in the year of 2016 for participating in and managing online events.
This write-up will explain Discord HypeSquad and its joining method.
What is the Discord HypeSquad?
HypeSquad is the Discord feature that enables users to connect with an online squad of gamers where they are judged based on their performances. The users can participate in the events and have to complete the squad challenges against another HypeSquad worldwide. In return, they will be rewarded with Hype badges and free giveaways. 
What are the Different Kinds of HypeSquad?
Based on the performance of the users, HypeSquad is categorized into three houses which are talent, bravery, and balance.
| Types | Descriptions | Badge Color |
| --- | --- | --- |
| House of Bravery | This house belongs to the members that are confident and have leadership skills. | Blue  |
| House of Brilliance | This house belongs to the members that are disciplined and patient in their selection.  | Red |
| House of Balance | This house belongs to the members having all the major skills such as brilliance, peace, and bravery. | Green |
How to Join Discord HypeSquad?
For joining the Discord HypeSquad, the user has to answer the quiz's questions consisting of 5 questions. Based on the quiz answers the user will be promoted to the particular HypeSquad house. Here's the step-by-step guide for the Discord HypeSquad to join.
Step 1: Access User's Settings
Launch the Discord application and access the user's settings by hitting the "Gear" icon: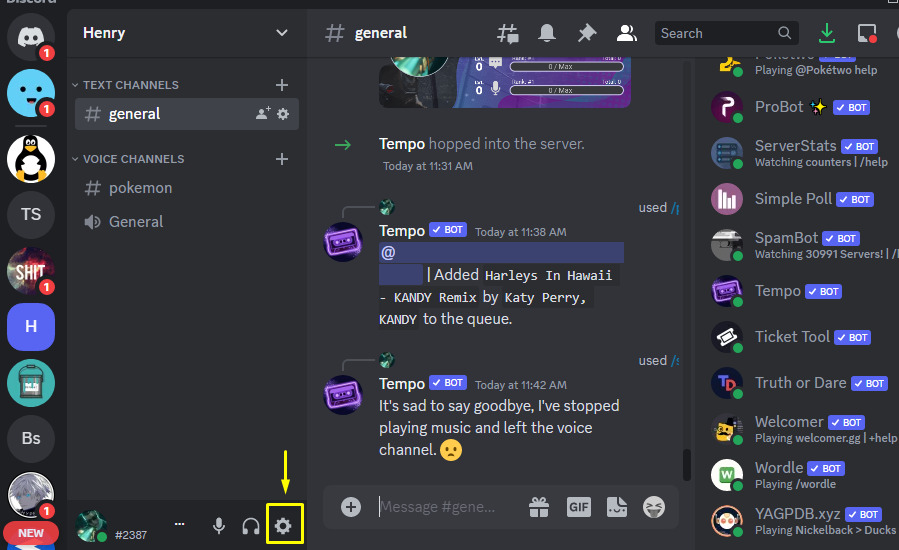 Step 2: Go to HypeSquad
From the settings, scroll down and go to the "HypeSquad" and press the "Join HypeSquad" button: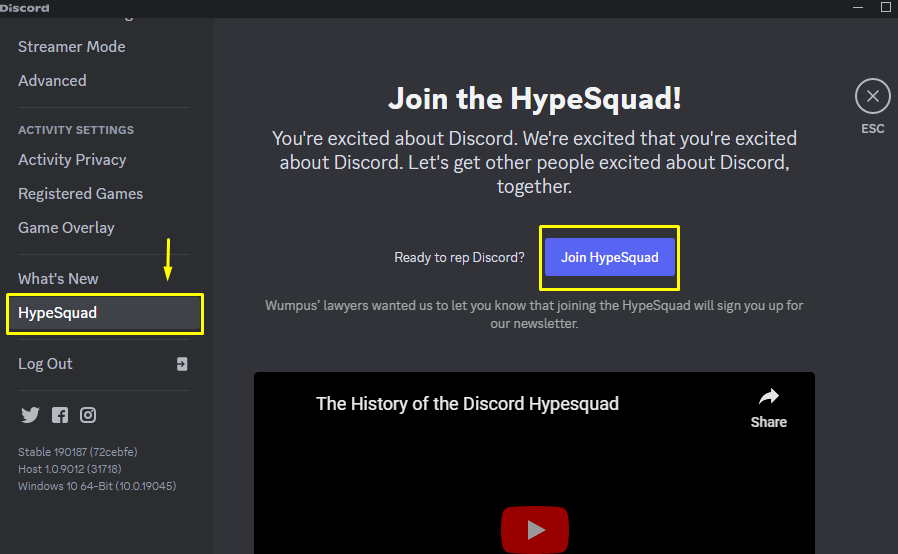 Step 3: Solve Quiz
After that, answer the multiple-choice question as per your liking and hit the "Next question":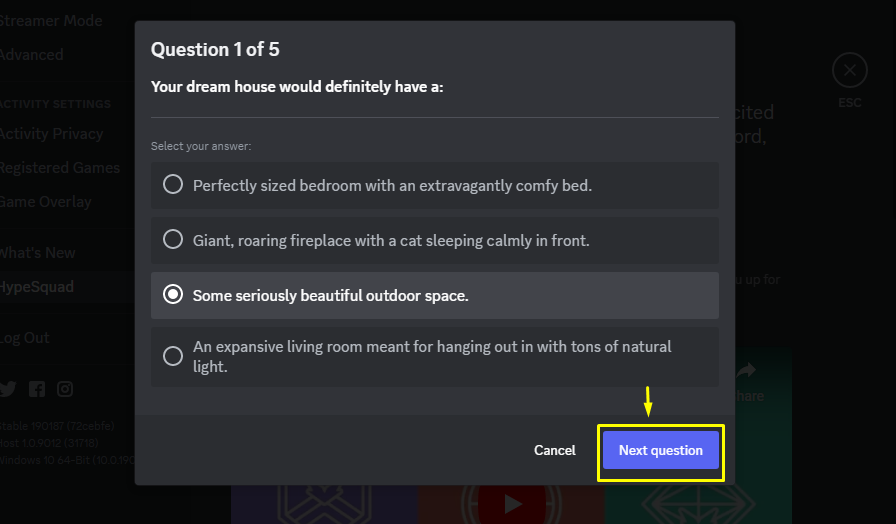 Similarly, answer all 5 questions and proceed: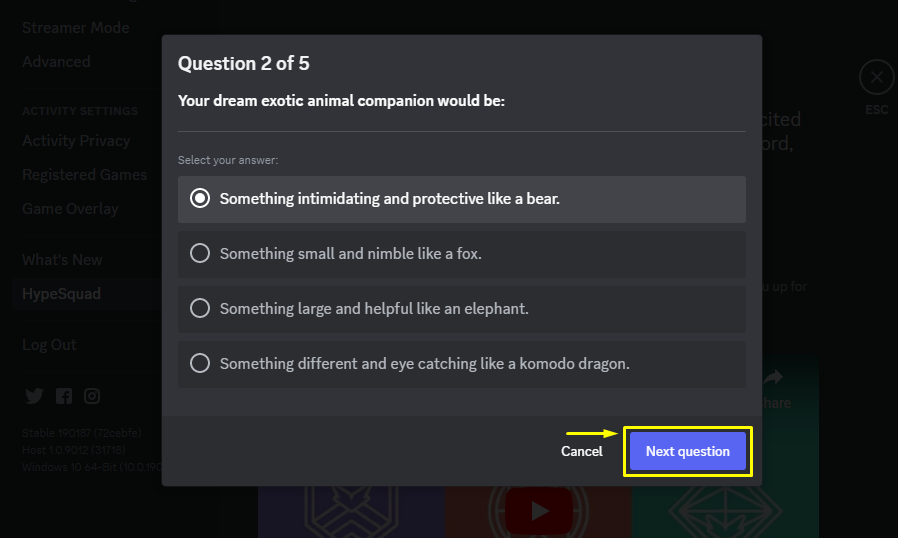 Once all the questions are answered, hit the "Show me my house!" button: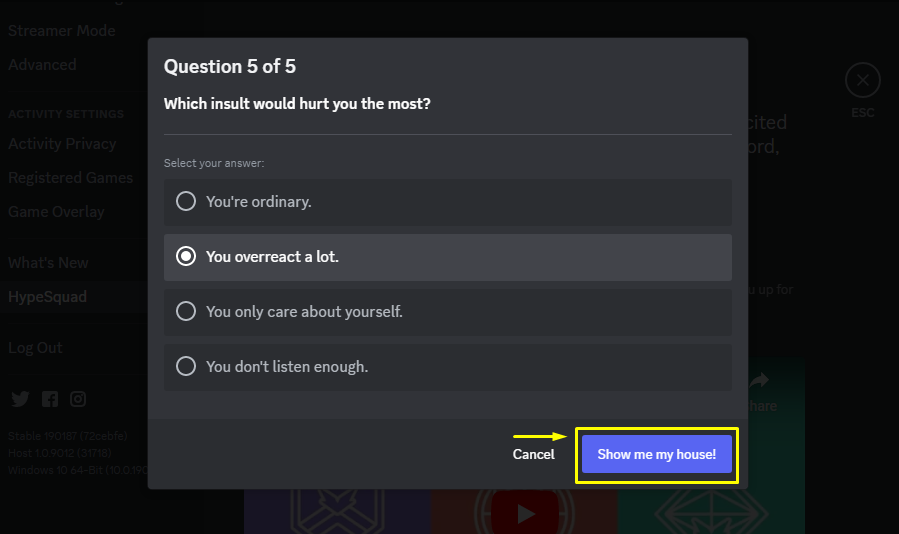 Step 4: Verification
The user is shifted to a particular house, in our case, "House of Balance" is assigned as shown: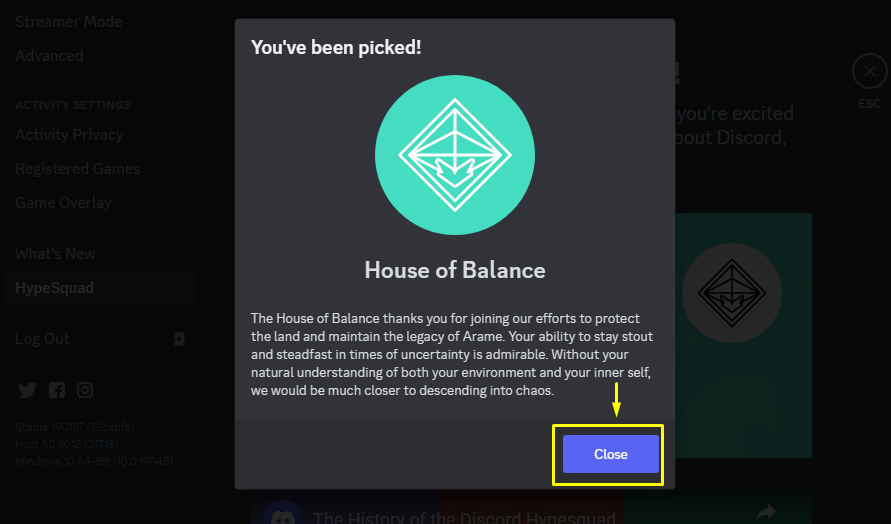 More specifically, the user can change the HypeSquad by attempting the test again: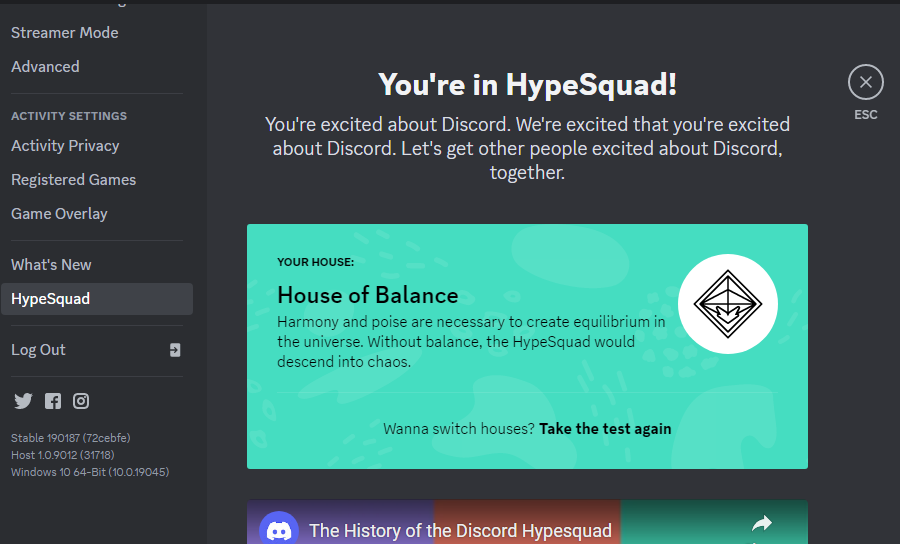 That's all about the HypeSquad.
Conclusion
HypeSquad is the Discord feature to get in touch with the online community to participate in and manage events worldwide. It is categorized into three houses, bravery, brilliance, and balance. To join the HypeSquad, go to "HypeSquad" settings, press "Join HypeSquad" and answer the quiz with 5 questions. The user will be connected with the particular house based on the quiz answers. 
This blog has briefly determined the HypeSquad in Discord.