Virtual Private Networks (VPNs), which enable users to encrypt their internet traffic and safeguard their identity online, which resolves a major issue of online security. That's why Linux users are always searching for a VPN that not only comes with lots of features but is also free. There are lots of such VPNs available for Ubuntu distribution. We will be discussing the two most used VPNs as below:
Windscribe
Windscribe is a popular VPN service that offers a range of features for its users and available in most of the countries around the globe. So it is not only easily accessible but also provides you with a reliable connection no matter where you are. This VPN will provide you with 10GB worth of internet surfing for free, and you can use that if you like by just making an account by providing your email.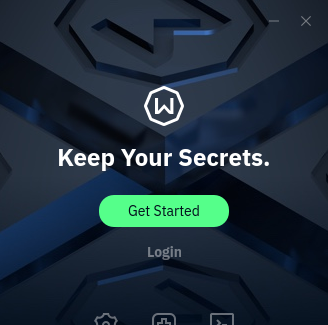 Features of Windscribe:
The main features of Windscribe VPN are discussed below:
Strong Encryption: This VPN comes with AES-256 encryption to protect users' data from unauthorized users, which is the same level of encryption used by the military and government organizations, making Windscribe a highly secure VPN.
No-logs policy: Windscribe VPN will not track your activities or whatever you do online, as it has a strict no-logs policy to keep your privacy and data security.
Ad and Tracker Blocking: This VPN has a built-in ad tracker to block ads so you won't get distracted and improve your browsing experience.
Firewall: It has a firewall feature known as a "kill switch" that is used to block all incoming traffic in case you have lost your internet connection to ensure that you are still protected even if you are offline
Split Tunneling: It offers a split tunneling feature as well which allows users to choose which apps and websites should run with this VPN and which not.
P2P Support: With peer-to-peer support, users can share files securely without revealing their identity.
Multiple Device Support: You can connect 10 different devices simultaneously by creating a single account, making it easier to protect all those devices with a single subscription.
How to Install Windscribe on Ubuntu?
The first thing you need to do is to download its application by accessing the following link. After that, you need to select the CLI option to download its Debian application, as shown below: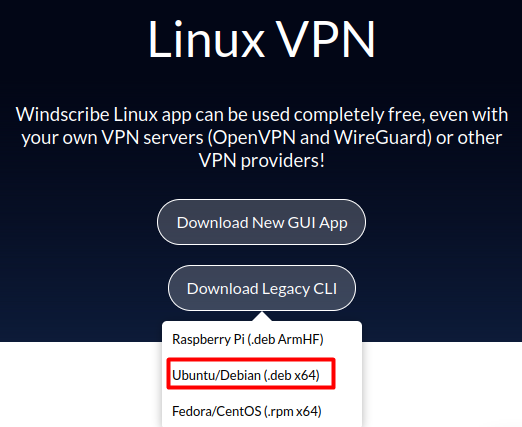 Later, you need to run the following command, which will install this application for your Ubuntu OS:
$ sudo apt install ./<FileName.deb>

ProtonVPN
ProtonVPN comes with around 1,200 servers that are scattered around in 50 different countries making it easy for users to find a server that suits their needs which is also available for free for Ubuntu users.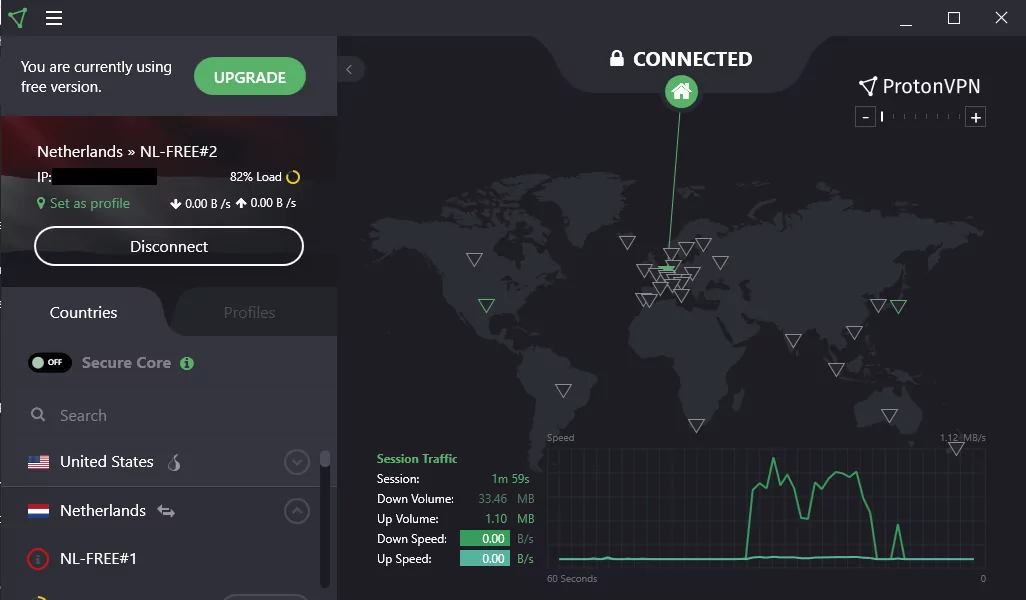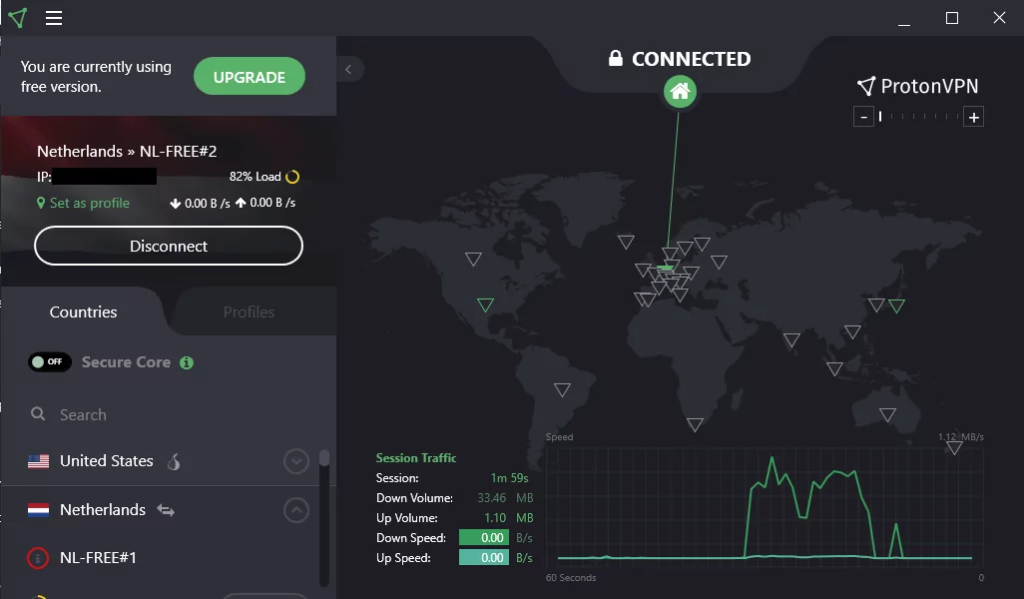 Features of ProtonVPN:
Here are the main features of ProtonVPN:
Strong Security Features: ProtonVPN also uses the same level of encryption which is AES-256, one of the secure encryption methods currently available. 
No-Logs Policy: ProtonVPN will not collect and store your browsing history or the activities that you are doing will surfing the internet, which makes it a good choice for those who prefer online privacy
Secure Core Network: ProtonVPN's Secure Core Network is a feature that uses multiple servers to route all your traffic to provide an additional layer of security in case any server stops working to protect your data.
DNS Leak Protection: By providing DNS leak prevention, ProtonVPN stops your DNS requests from leaving the VPN tunnel to make sure that no one should be able to view your browser history or intercept your data.
P2P File Sharing: This is a great feature for those users who want to send or receive information anonymously to anyone online.
Tor over VPN: With ProtonVPN, users can also connect to the Tor network, which adds an extra layer of protection, making it difficult for anyone to track their online activity.
How to Install ProtonVPN on Ubuntu?
You need to visit this link to download the ProtonVPN application with the Debian format file as shown below:

After downloading the Debian package, you need to run the following command to install it on your Ubuntu distribution below:
$ sudo dpkg -i protonvpn-stable-release_1.0.3_all.deb


Or the "apt install" command can also be used in the following way: 
$ sudo apt install ./<FileName.deb>

Conclusion
Ubuntu being a famous Linux distribution, offers various free VPNs to protect your privacy from outside the world. The two discussed in this article, which are WindScribe and ProtonVPN, are not only free but work well on Ubuntu as well. This post has described the basic information and the installation of these two VPN tools on Ubuntu.