Discord, provides many useful features such as making audio-video calls, going live, watching movies together, and many more. But sometimes, users may be addicted to Discord and want to overcome this addiction. For this purpose, they may want to delete a Discord account to avoid spending so much time on it.
In this article, the duration and steps involved in deleting a Discord account will be discussed.
How Long Does It Take for a Discord Account to Delete?
Discord takes approximately 14 days to remove user accounts from its servers. However, it may take an additional 14 to 30 days to complete all specified operations related to the deletion process. After the completion of this deletion timeline, your Discord account will be permanently removed from their system.
Discord Data Retention and Privacy
Discord retains certain information related to your account, even after deletion. According to Discord's support page, they keep some data from your Discord account. This includes information like your username, email, phone number, and details about how you use Discord. Discord retains this data to understand user interactions, improve their services, and meet business and legal requirements.
Discord Account Hold Period
After initiating the account deletion process, Discord typically puts the user account on hold. This will provide the possibility of recovering your account in case users deleted it unintentionally or if they change their mind. In this period all your personal information, server, and friends will remain intact and a user can access everything again once they activate their account.
Discord Inactive Account Deletion
Discord has a policy for deleting inactive accounts if an account remains unused for a period of 2 years or more, it may be scheduled for deletion. If a user didn't use their account for around 2 years, then they can receive a warning email or text message to notify them that their account can be deleted.
How to Delete Discord Account on Desktop Application?
Deleting a Discord application requires the user to follow a few steps which are very straightforward to implement and are discussed below.
Step 1: Navigate to User Settings
First, open their Discord desktop account if needed and then select the "User Settings" button which is available at the bottom: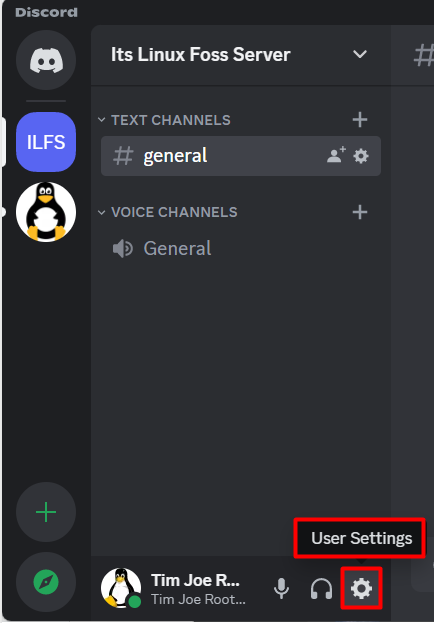 Step 2: Transfer Server Ownership if Any
Next, the user needs to open the "My Account" settings and on the right side "Delete Account" button will appear: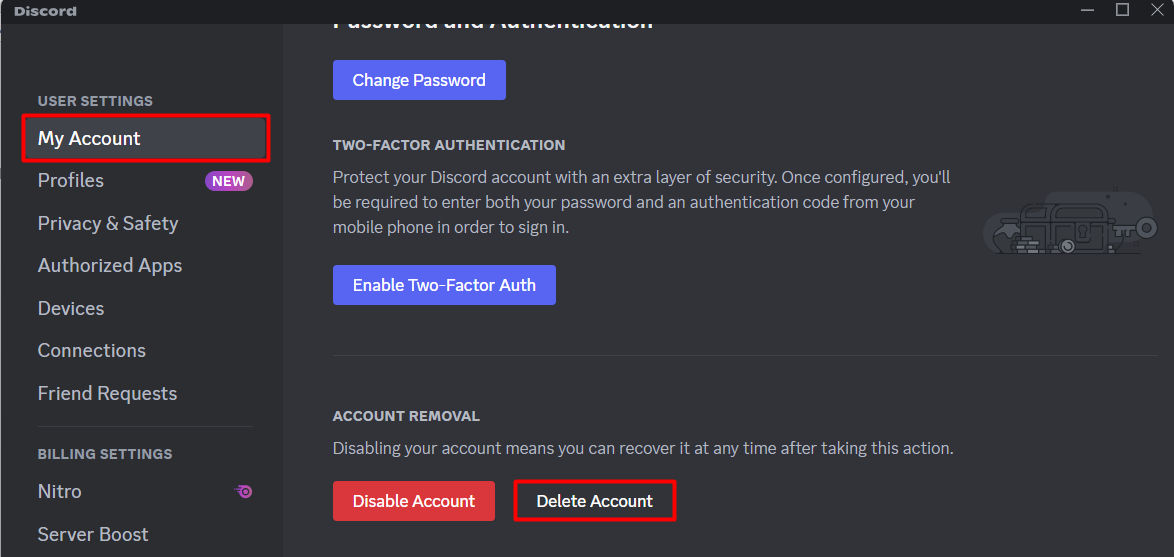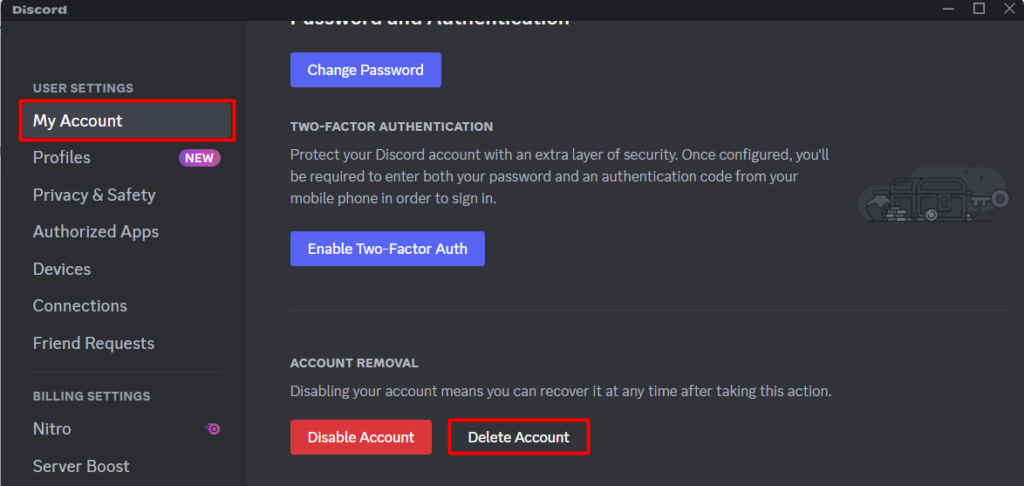 When a user clicks on that button, then a new prompt will appear asking them to transfer the server ownership to someone else as shown below: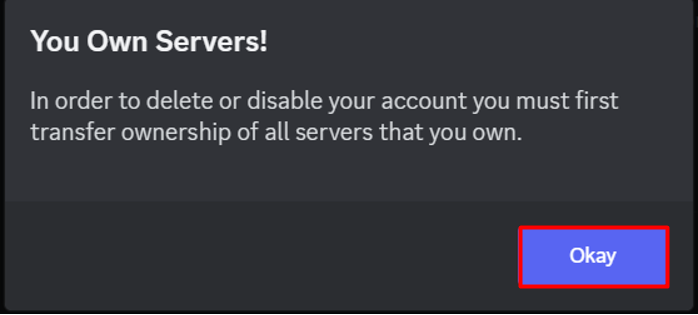 The following article will provide a detailed guideline on how to transfer server ownership if they don't know the process. One more and simpler way is that user can delete their own created servers and then they don't need to transfer the ownership to someone else.
Note: This prompt will only appear if a user is the owner of any server.
Step 3: Delete Discord Account 
Now, once again go to the user settings and click on the "Delete Account" button available under the "My Account" tab: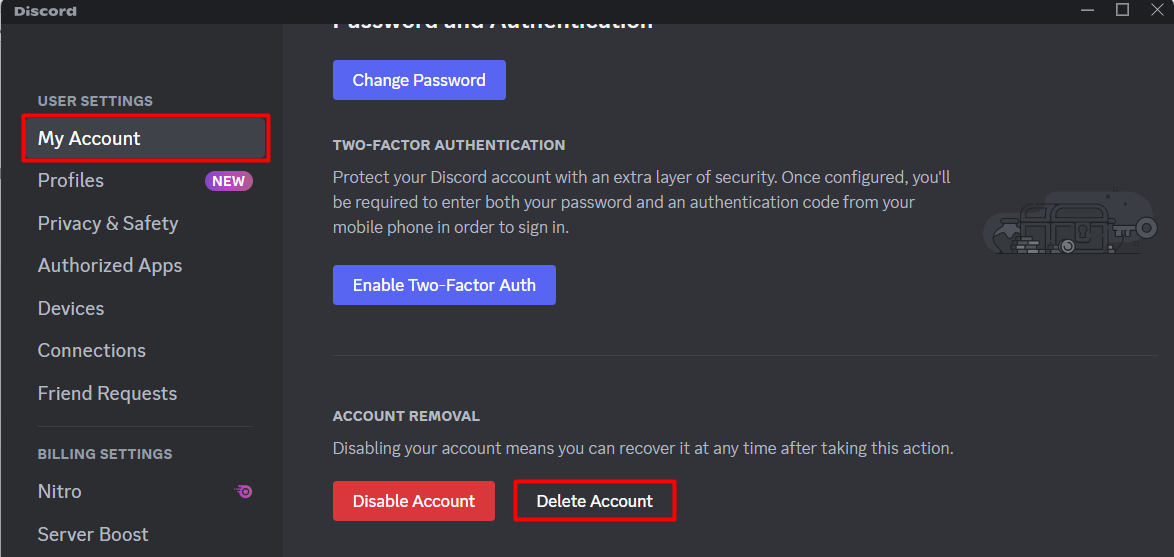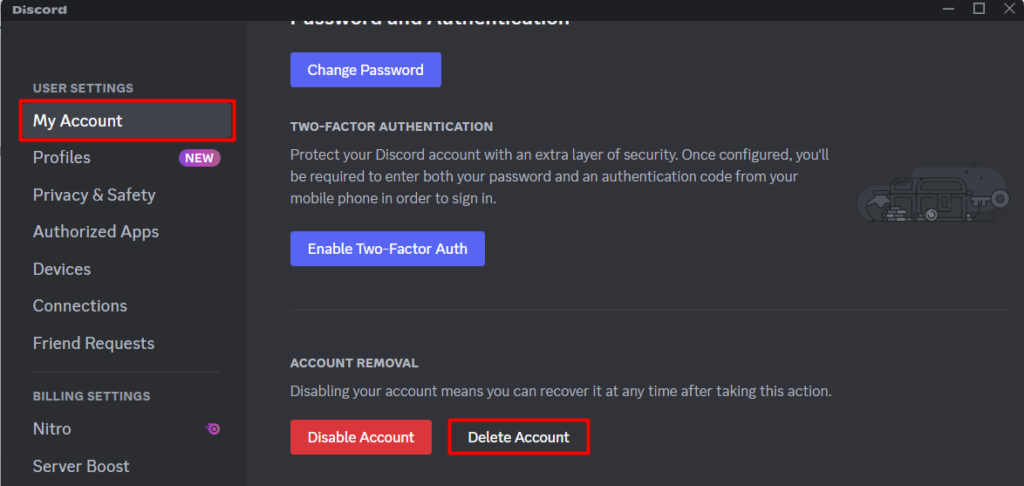 After that, Discord will ask a user to provide their password and some warning as well to confirm if they really want to delete their account. So, provide the account password and click on the "Delete Account" button available at the bottom to delete it: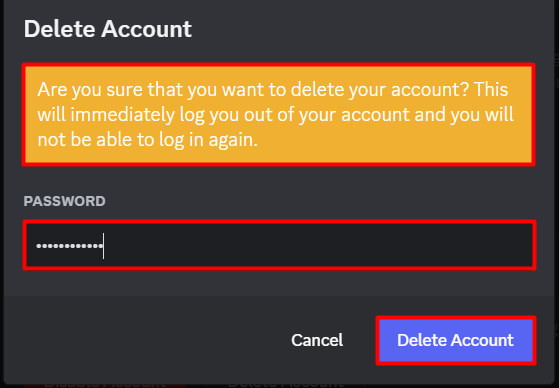 Note: If you have enabled Two Factor Authentication (2FA) then you also need to provide the six digits along with the password to delete the account. In case you are not able to access the 2FA code then read this article to get the necessary guidance to take back control of your Discord account.
How to Delete Discord Account on Mobile Application
In the case of mobile users, they can also delete their mobile account which can be done by following the below steps.
Step 1: Launch User Settings
Launch the Discord app on the phone and tap your profile icon located in the app's bottom bar to launch "User Settings":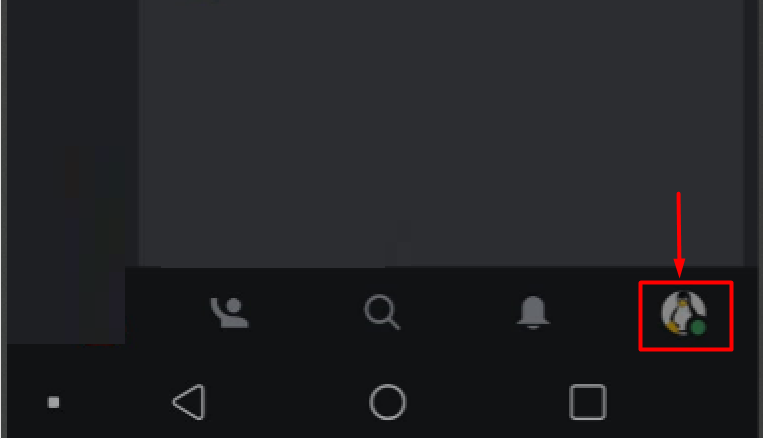 Step 2: Open Account Tab
On the "User Settings" page, scroll down and tap on the "Account" tab: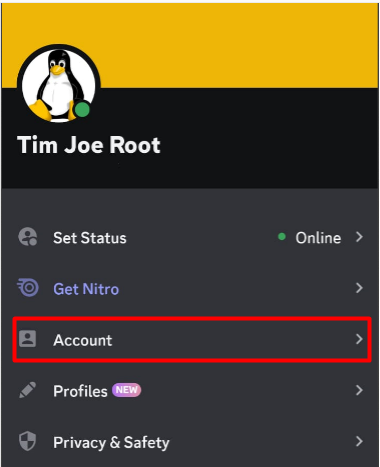 Step 3: Delete Discord Account
After opening the account tab, a user will notice the option of "Delete Account" by scrolling down at the bottom: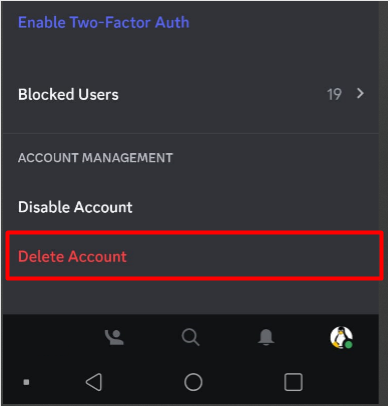 Lastly, provide a password and then click on the "Okay" button to delete the Discord account: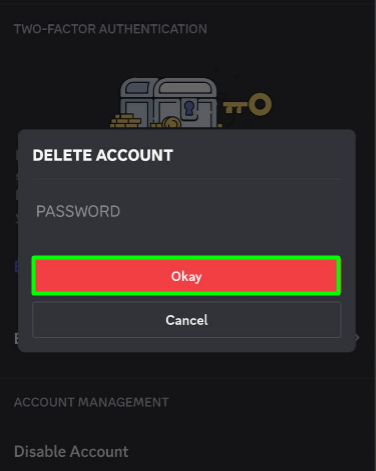 Conclusion
If the user's account remains inactive for 2 years or more then Discord will schedule it for deletion. On the other hand, manually deleting your account takes approximately 14 to 30 days, during which Discord holds the account for recovery purposes.