TTS Bot is available for the Discord app that uses text-to-speech technology and converts text messages to speech. This bot can be added to Discord servers and used by users to listen to text messages within the server. The TTS Bot is flexible and can be tailored to meet the specific requirements of users or servers.
This article will be focusing on adding this bot to the desktop version of Discord, but the same procedure can be applied to the mobile application as well.
The outline of this article is:
How to Add TTS Bot on Discord?
Follow the below steps to add the TTS bot to any Discord server
Step 1: Navigate to "Top.gg" Website
First, open the "TTS Bot" invite link available on the "top.gg" website. Then, hit the "Invite" button: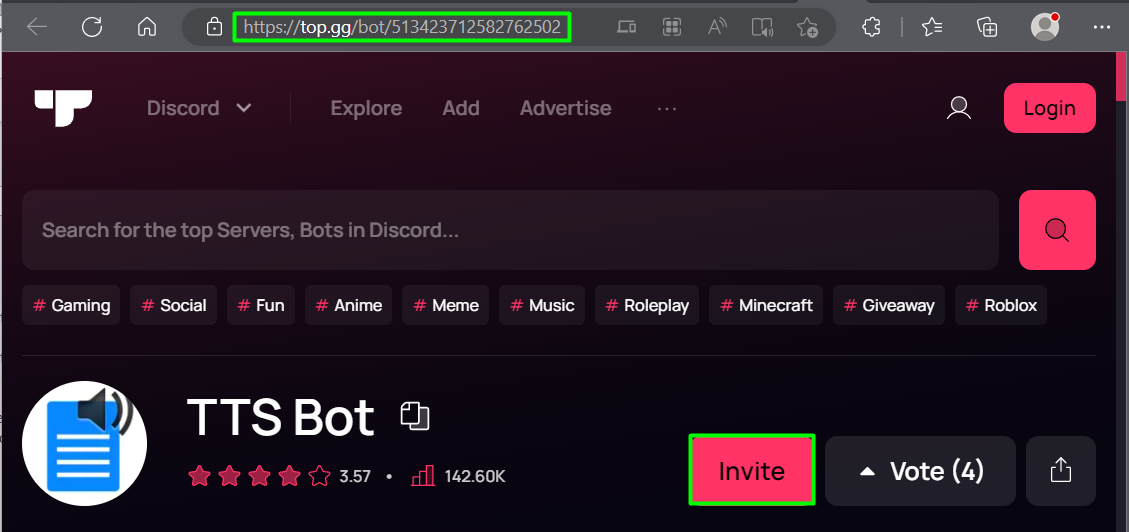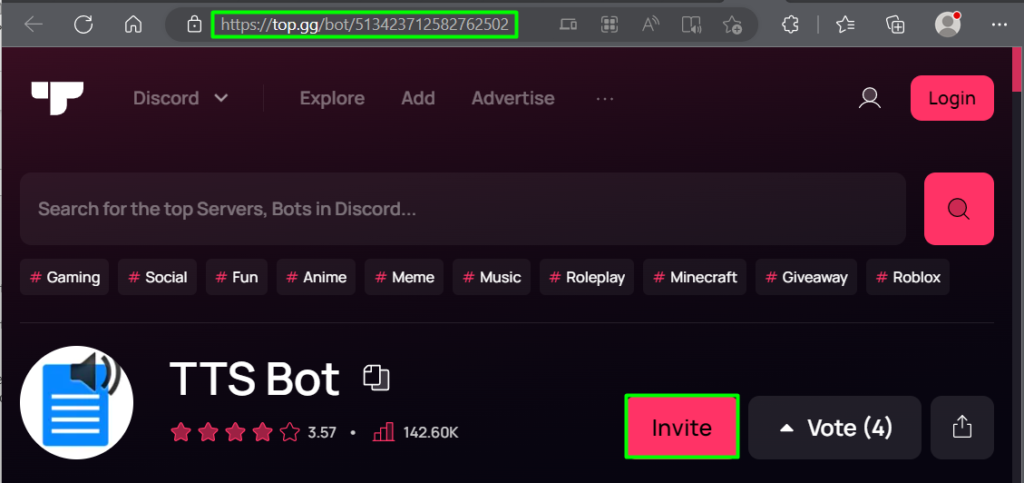 Step 2: Choose a Server
Next, log in to the Discord account first which is compulsory. Then, choose a desired server where this bot needs to be added and click on the "Continue" button: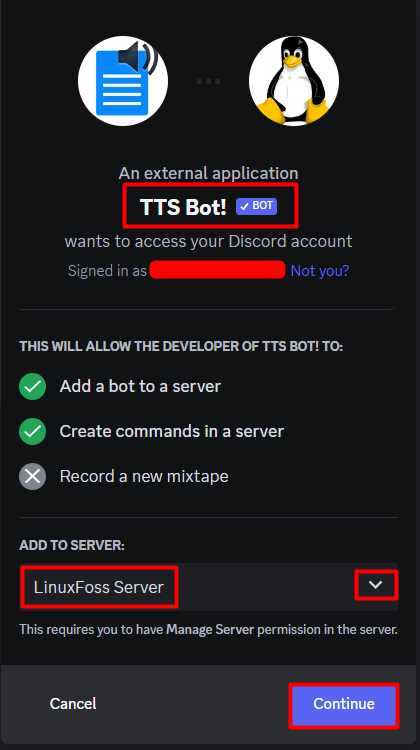 Step 3: Provide Necessary Permissions and Authorize
Upon doing so, a list of different permissions will be displayed where a user needs to choose only those that are necessary by clicking on their boxes. After that, click on the "Authorize" button: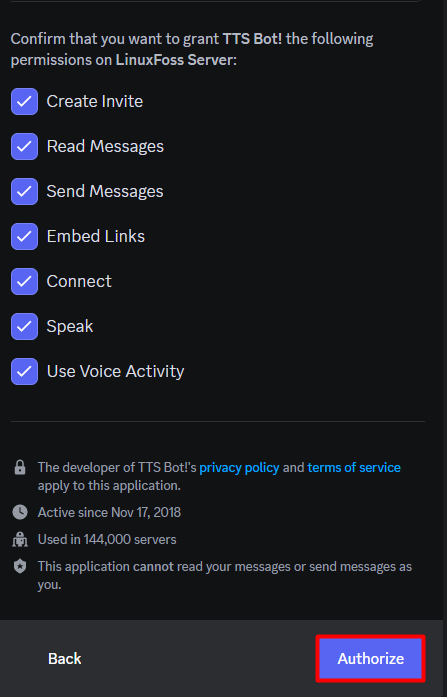 Step 4: Click the Captcha Box
Clicking on the captcha box is necessary to ensure human verification and is a compulsory step to add this bot to the server: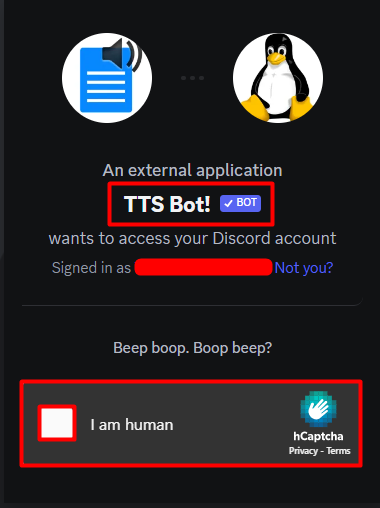 Step 5: Discord TTS Bot Verification
To verify if the Discord TTS bot has been successfully added, navigate to the particular server in which you have added the TTS bot and verify if the bot exists or not:


TTS Bot Commands
A list of available TTS Bot Discord commands can be seen by typing "-help" on the server chat box as shown below: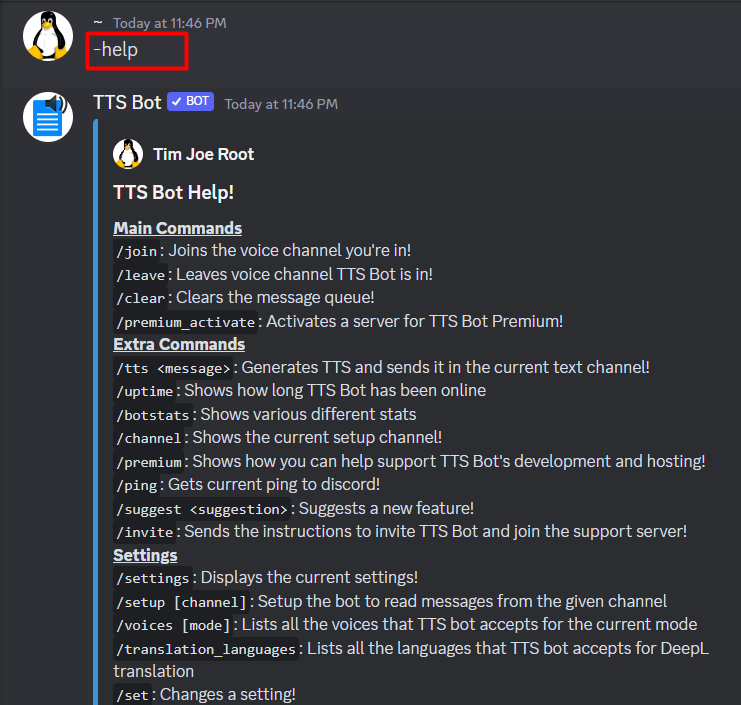 This is how a user can set up and execute any of the above commands by writing the "slash (/)" before the command.
Features of TTS Bot
TTS Bot has a range of features that make it a useful addition to Discord servers and some of them are mentioned below. 
Text-to-Speech Conversion: The TTS Bot enables users to transform text messages into speech, providing an alternative for those who prefer listening to messages instead of reading them.
User-Friendly Commands: This Bot comes with user-friendly commands that make it easy to use as users can quickly learn how to use the bot and customize its settings.
Integration with Other Bots: TTS Bot can be integrated with other Discord bots, such as music bots which allow users to listen to music and text messages simultaneously.
Pronunciation Correction: TTS Bot has a pronunciation correction feature that allows users to correct the way the bot pronounces certain words.
Changing the Bot's Voice: This bot comes with a variety of different voices so that a user can choose as per their preference.
Adjusting the Speed and Volume: Users can adjust the speed and volume by making it slower or faster at a pace that is comfortable for them.
Conclusion
TTS Bot is a useful addition to Discord servers that allows users to convert text messages to speech. This bot can be added to any Discord server by opening the "top.gg" website and then clicking on the "Invite" button. Then, choose the desired server and click on the "Authorize" button. This article has provided us with a detailed guide on TTS Bot on Discord.