While working with documents, printing is the key operation to perform. Google Docs also offers a printing feature to get a hard copy of your document within no time. Apart from getting the hard copy, the printing option can be used to save the Google Doc as a "PDF". This post will list possible methods to print from Google Docs.
The content that demonstrates the guidelines are as follows:
Let us start with the first method.
Method 1: Using the "File" Tab
The following steps will lead you to utilize the "File" tab to print from Google Docs. These steps are explained below:
Step 1: Open Google Docs File
Firstly, open Google Docs on the local system. Select a new or an existing document for printing purposes. In this method, a current document is carried out:
Step 2: Open the File Tab
Navigate to the "File" tab from the menu bar. A drop-down list will pop up. Scroll down the drop-down list and click on the "Print" option: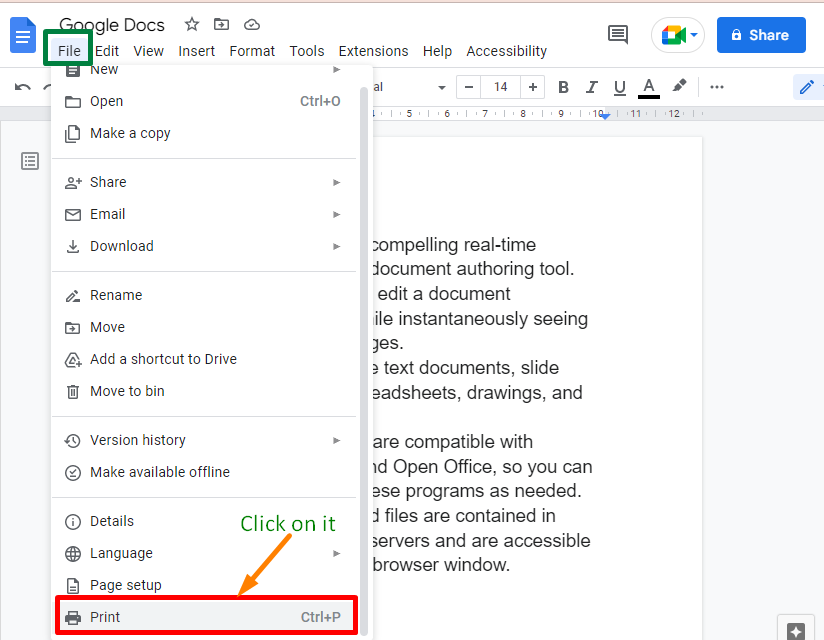 Step 3: Open Print Window
A "Print" window will open having options "Destination", "Pages", "color",and "More settings":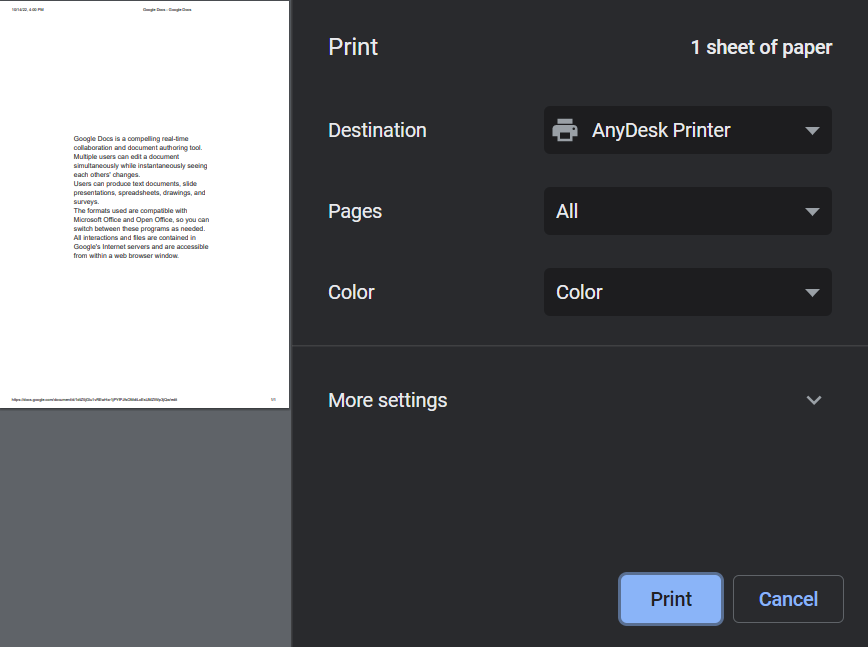 Tap on "More settings", and you can see five more options described below such as:
Paper size: Set the paper size (like, set it to A4 if the A4 size pages are used for printing).
Pages per sheet: To adjust the number of printed pages on a sheet.
Margin: To set the margin around a printed paper.
Scale: This option is utilized to change the measurements of printed paper.
Options: This option has two checkboxes, "Headers and Footers" and "Background graphics". The user can either mark it checked or unchecked according to the requirements.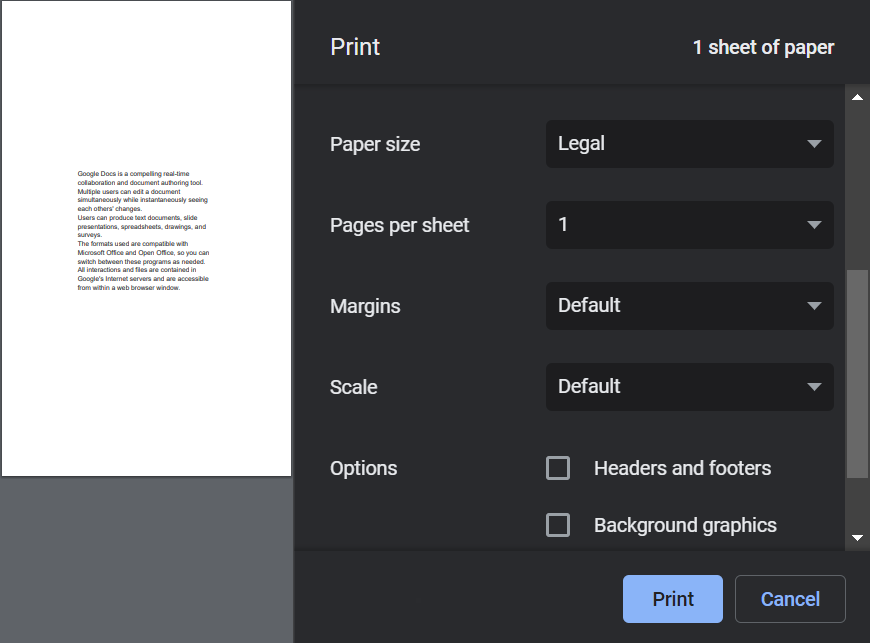 After changing the credentials, click on the highlighted blue"Print" button: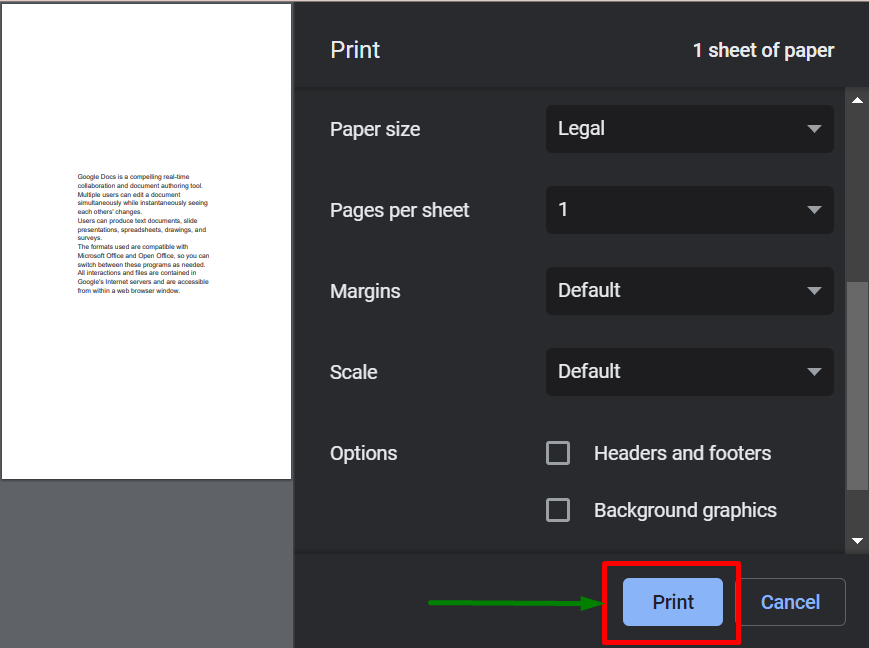 After doing so, the document will be sent to the printer for printing.
Method 2: Using the "Print" Option
Here is another way to print the document from Google Docs by using the "Print" Option. For this purpose, click on the "Print" icon from the toolbar: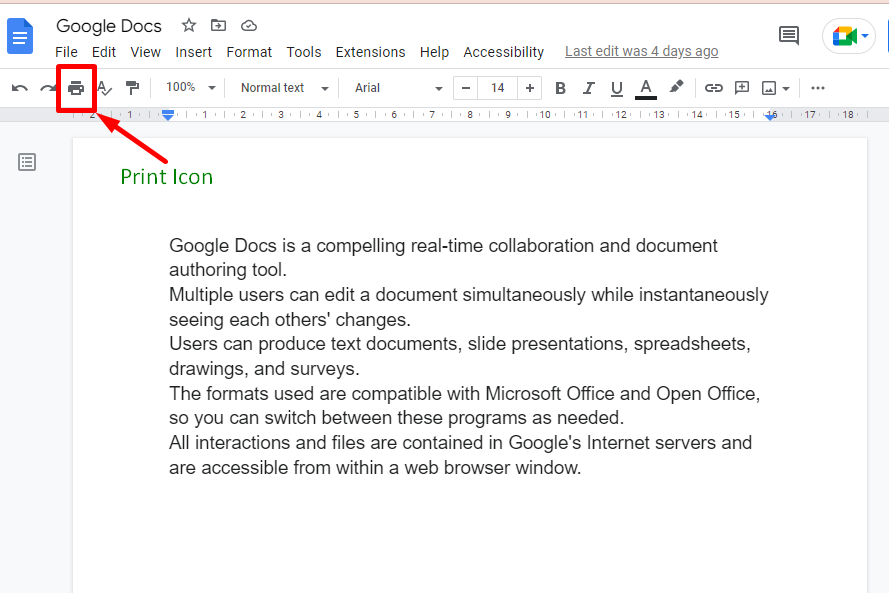 A "Print" window will pop up. On this window, the user can change the "Page size", "Pages per sheet", "Margins", and "Scales" with the help of the "More Setting" option. In the last, press the "Print" button: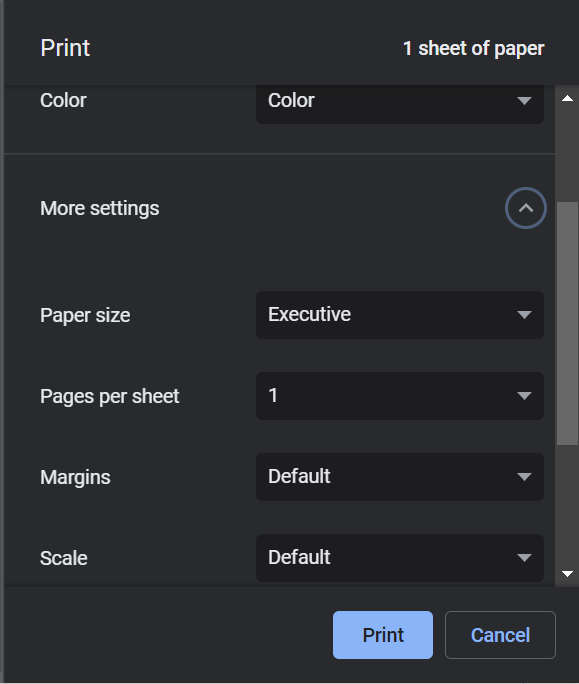 Now the current Google Docs document is ready to print.
Note: The user can also print the document from Google Docs by pressing the shortcut key "Ctrl + P".
That's all about this guide.
Conclusion
The "File" tab is utilized to print the documents from Google Docs. The "Print" icon in the toolbar also benefits this purpose. Moreover, there is a shortcut key, "Ctrl + P", to print the document. In this guide, all the possible methods are briefly described. The user can print the document using the workable methods mentioned in this guide.