The "VC" stands for "Voice Channel" in Discord which is one of its key features as it enables users to engage in real-time voice communication with other members of the same server. Unlike text-based channels where messages are exchanged via typing, voice channels provide a better and more interactive experience by allowing users to speak and listen to others in real time using their microphones.
It serves as a hub for individuals to engage in discussions, coordinate gameplay, or simply socialize with fellow community members. This article will provide a detailed guide about the Discord Voice Channel (VC) feature and what it has to offer.
How VC works in Discord?
When a user joins a voice channel in Discord, they become part of a live audio conversation. They can speak directly to other participants, and their voice is transmitted in real-time to all other members present on the same voice channel. Similarly, they can listen to others who are actively speaking.
If someone on the server doesn't know how to join a Voice call, then they should look for a "Voice Channel" on that server. Next, they can click on "Open Chat" to join the voice channel as shown below:


Benefits of Using VC in Discord
The integration of voice channels in Discord offers several advantages for users and some of them are listed below.
Real-time Communication
Voice channels enable real-time communication which eliminates the delay associated with text messages to provide a more natural and quick way to interact with others.
More Effective Communication
Text-based communication is emotionless and sometimes they can easily be misinterpreted but this won't happen during the voice calls. This is because users can communicate more effectively and convey their message more properly.
Community Engagement
Voice channels can be used for collaboration with other users in the community which will increase the engagement of the server. This way they can build a stronger connection with other users by sharing their opinion and experience.
VC Features in Discord
Discord's voice channels come equipped with several features that enhance the overall user experience. Let's explore some of the key features of VC in Discord.
Multiple Voice Channels
Discord allows server administrators to create multiple voice channels within a server based on different topics, purposes, or user roles. Users can join specific voice channels based on their interests or activities, allowing they can communicate with like-minded people. To do that a user need to click on the name of the channel where the option to "Create Channel" will appear: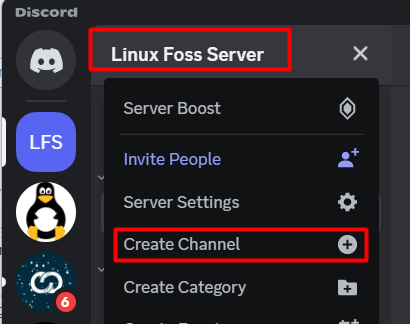 Select this option and then choose the "Voice" channel option, provide the channel name, and then click on the "Create Channel" button: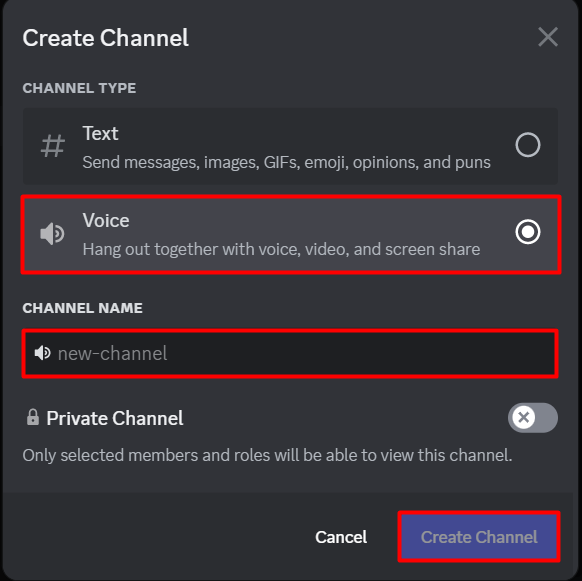 Screen sharing
Discord also offers a screen-sharing feature in voice channels where users can share their screens with others for activities like presentations and gameplay streaming among others. This can be done by joining the voice channel person and at the bottom, selecting the option of "Share Your Screen":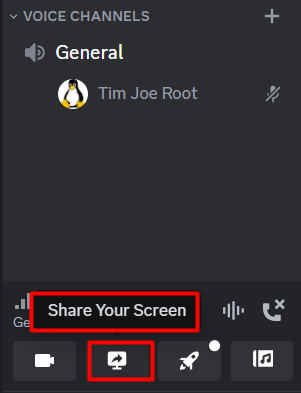 Push to Talk
Discord provides a Push to Talk feature, which allows users to enable their microphone by pressing a specific key or a button. This way they can minimize their background noise by enabling the microphone when they are planning to talk. 
To apply this feature, first, open the "USER SETTINGS", then launch "Voice & Video" settings where a user can see the "Push to Talk" option under the "INPUT MODE". Here they can also bind the key which will be responsible for activating this mode and the release delay as well:


Noise Suppression
Discord also comes with noise suppression technology which helps in reducing background noises and echoes for clear voice transmission. This feature is also available in the "Voice & Video" settings below Push to Talk settings: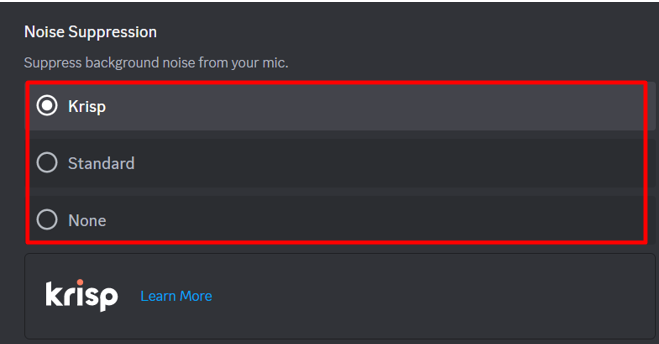 Conclusion
The "VC" stands for "Voice Channel" where users can communicate with each other by talking to them in real-time rather than texting others. To improve the user experience, voice channels can be created multiple times based on the categories for better organization. Also, they have noise cancellation capabilities, user can share their screen, and push-to-talk features. This article has covered different aspects of the voice channel (VC) in detail.