Discord, a popular communication platform, offers users to join servers where they can interact or collaborate with other individuals. There are over 19 million servers available for the Discord application. All of the servers represent their unique purposes, features, and interests. Some of them are gaming servers, some are educational servers, fitness servers, art and design servers, medical servers, and many more.
Which Discord Server Has the Most Members?
In this article, we will discuss some servers that have the most members along with their multiple features:
Midjourney Discord Server
OpenAI Discord Server
Roblox – Discord Gaming Server
Midjourney Discord Server
The Midjourney Discord server is a platform that offers a range of features and functionalities related to the Midjourney AI art generator. This server is mostly used by artists and graphic designers to help them in completing their tasks and to provide them with new ideas. 
This server currently has 15,500,236 and keeps on increasing where user can join Midjourney by clicking on the following link:
Key Features of Midjourney Discord Server
There are a variety of channels available on the left side of the server that can be seen once the user joins this server. These channels are dedicated to different topics, discussions, and resources and allow users to engage with like-minded individuals. Some of the common channels available in this server are mentioned below:
General Discussion: This channel serves as a space for general discussions and announcements related to Midjourney.
Art Showcase: Artists can share their AI-generated artwork and receive feedback from the community.
Help and Support: If you have any questions or need assistance with the Midjourney AI or Discord server, this is the channel to visit.
Tutorials and Guides: Find useful tutorials, guides, and resources to enhance your understanding and skills in AI art generation.
OpenAI Discord Server
OpenAI is currently the most famous and renowned artificial intelligence research lab which has its own Discord server and has total members of around 3,360,093. This server offers various features and resources for developers, AI enthusiasts, and users of OpenAI's models and can be joined by clicking on this link: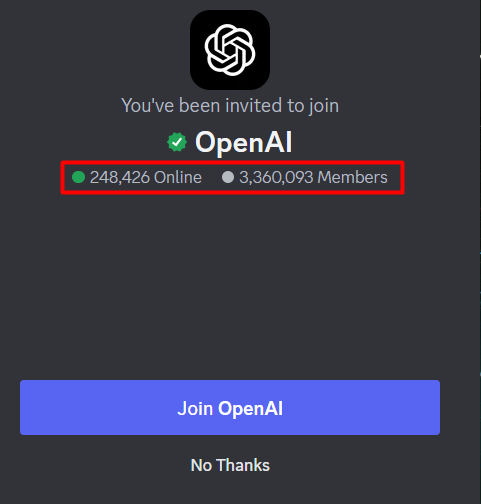 Key Features of OpenAI
The main key features of the OpenAI Discord server are listed below:
General-Purpose Chatbot: It comes with a powerful chatbot where the user can enter a prompt and in response, this bot will generate a text and information someone is seeking.
DALL-E API Integration: The OpenAI Discord server supports the DALL-E API for image generation using the DALL-E model. This integration empowers developers and artists to utilize AI for creating unique and artistic visuals. 
Discord Bot Development: OpenAI's Discord server provides resources and guidance for developers to build Discord bots using OpenAI models. By integrating AI capabilities, developers can create interactive and intelligent experiences for Discord users.
OpenAI Prompt Library: The OpenAI Discord server has a "prompt-library" channel where users share tips for effective prompts to improve the response.
Roblox – Discord Gaming Server
Discord gaming servers play a vital role in enhancing the overall "Roblox" gaming experience with total members of around 840,658. These servers provide a centralized platform where players can gather, share information, and engage with the community:


Key Features of Roblox
The main key features of the Roblox Discord gaming server are listed below:
Exclusive Content and Updates: "Roblox" Discord gaming servers provide members with exclusive content, early access to game features, behind-the-scenes insights, development updates, and sneak peeks of upcoming releases. 
Interactive Community Channels: "Roblox" Discord gaming servers offer interactive channels for players to discuss, share experiences, and seek advice. 
Voice Chat and Collaboration: With Discord's voice chat users can have real-time communication with others. They can collaborate, coordinate, and socialize through voice channels, asking for advice or exploring new games available on Roblox.
Gaming Events and Tournaments: This server also offers gaming events and tournaments where gamers can compete with others, showcase their skills and earn rewards.
That's all about the article on "Which Discord server has the most members?".
Conclusion
Discord serves as an excellent platform for creating and joining communities based on user interests. When it comes to the server with the most members, several notable servers standout such as Midjourney with around 15,500,236 users. The other two such servers are OpenAI with 3,360,093 and Roblox with 840,658 users. This post has discussed the server with most members on Discord.