Image editing can be an essential part of a designer's or photographer's workflow. Whether you need to touch up a photograph, create a graphic design, or simply crop an image, having the right image editor can make the task much easier and more efficient.
This post will enlist the six best image editors for Ubuntu in 2023 and will provide a detailed analysis of each editor. The list is:
1. GIMP (GNU Image Manipulation Program)
GIMP is an open-source image editing software built on a philosophy of providing professional-level tools with its key features mentioned below.
It is a versatile software that enables users to perform various tasks such as photo editing, image combining, and creating original images.
One of the standout features of GIMP is its support for working with layers which allows you to make changes to different parts of an image without altering the underlying image. 
You can easily make complex adjustments to an image, such as blending multiple images together or making selective color adjustments.
Additionally, GIMP has a wide range of tools for editing and retouching images, including tools for cropping, resizing, rotating, and adjusting brightness and contrast.
It also has a wide range of brushes and filters to apply various effects to an image, including blur, sharpen, and smudge.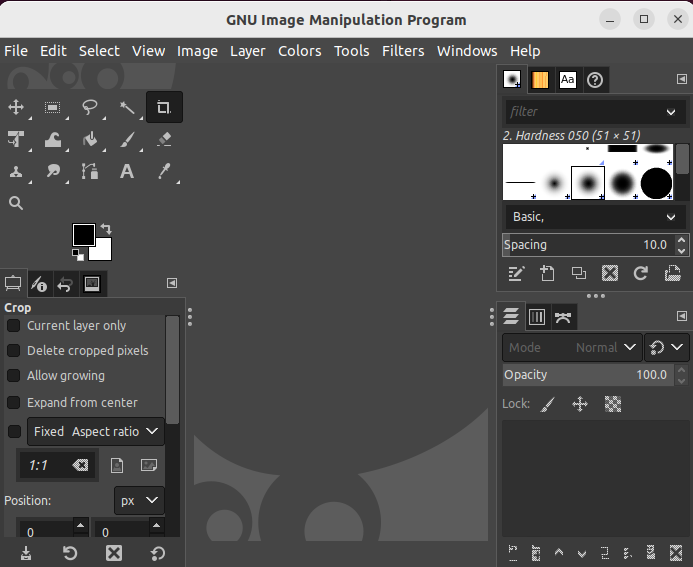 How to Install GIMP on Ubuntu?
You can install GIMP on Ubuntu by typing the below command:
2. Inkscape
Inkscape is a free and open-source vector graphics editor software that allows for creating and editing scalable vector graphics:
It is a vector graphics editor that allows for the creation and editing of vector images composed of scalable shapes and paths rather than pixels.
It has a user-friendly interface similar to other popular image editing software, making it easy for users to learn and use.
This application has various tools for creating and editing vector shapes and paths, such as the Pen tool for creating custom shapes and the Select tool for editing existing shapes.
It also offers a color picker, gradient, and text manipulation tools. It provides support for several file formats such as SVG, PNG, and PDF, allowing easy sharing and exporting of the images.
Inkscape also includes features that support website design, logo creation, and technical illustration, making it a suitable application for professionals.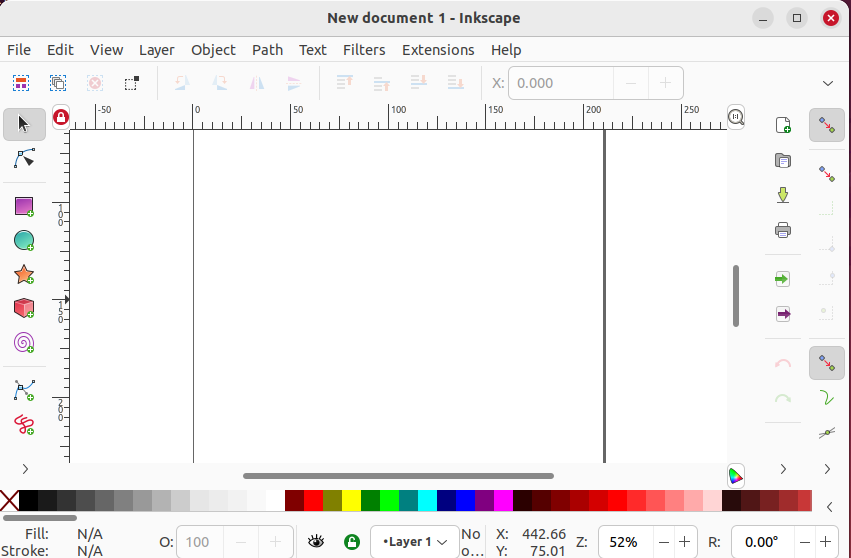 How to Install Inkspace on Ubuntu?
You can install Inkscape by typing the below command:
$ sudo apt install inkscape

3. Krita
Krita is a popular open-source image editing software designed for digital painting and illustration with its key features mentioned below:
One of the most notable features of Krita is its advanced brush engine, which allows for natural and realistic brushstrokes and textures.
It offers a variety of brushes, such as pens, pencils, airbrushes, and more, that can be customized and saved for future use.
Krita also offers advanced layer support and a wide range of color management options, allowing users to work with multiple layers, blending modes, and vector layers.
It has a robust set of color management features, such as color spaces and profiles, to ensure accurate color reproduction.
It also provides a variety of other tools for editing, including clone tools, transform tools, and selection tools, and has a variety of filters and effects that can be applied to images.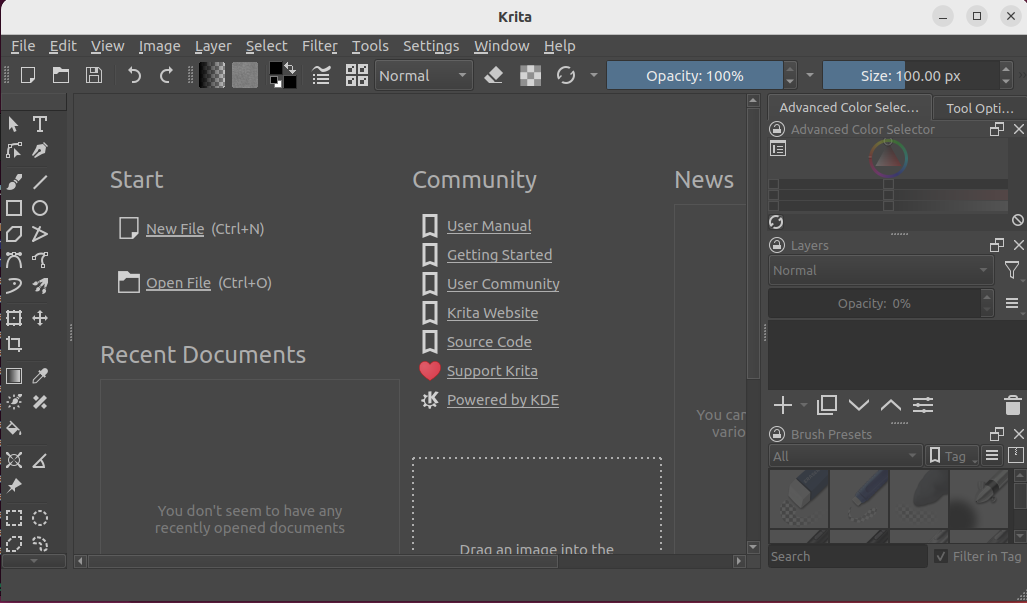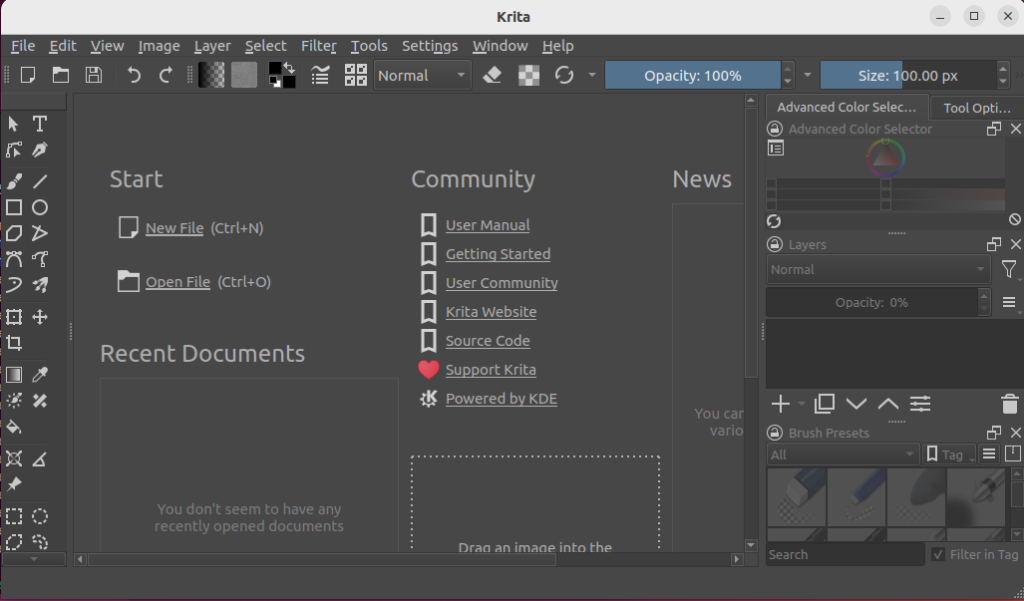 How to Install Krita on Ubuntu?
To install this useful image editor, run the below-stated command in the terminal:
4. Darktable
Darktable is an open-source, cross-platform image editing software that provides a wide range of tools and features for editing and organizing digital photos with its main feature listed below:
The software offers a wide range of editing tools and options, such as color correction, tone adjustments, crop and rotate, spot removal, and lens correction.
It also provides advanced editing tools such as selective adjustments, history stack, and output color spaces.
It's also equipped with various tools for organizing and managing digital photos, such as keyword tagging, metadata editing, and geotagging.
Darktable is a non-destructive vector graphic editor where changes made are stored as instructions, allowing for reverting back to the original image at any time.


How to Install Darktable on Ubuntu?
To install Darktable on Ubuntu, use the command written below:
$ sudo apt install darktable

5. RawTherapee
RawTherapee is an open-source software used for editing and processing raw image files. Some of its key features are mentioned below:
It is a powerful tool that provides a wide range of editing options to help photographers and artists to achieve the desired results.
It provides support for a variety of different image file types such as raw, JPEG, TIFF, and PNG.
It allows users to adjust color balance, exposure, contrast, and other image parameters to create high-quality images.
It also includes a built-in image browser, which allows you to easily preview, compare, and select images for editing.
It also has a batch-processing feature that lets you apply a specific set of edits to multiple images at once.
It has a comprehensive user interface, which is well-organized and easy to navigate that allows experienced users to take full control over their image editing process.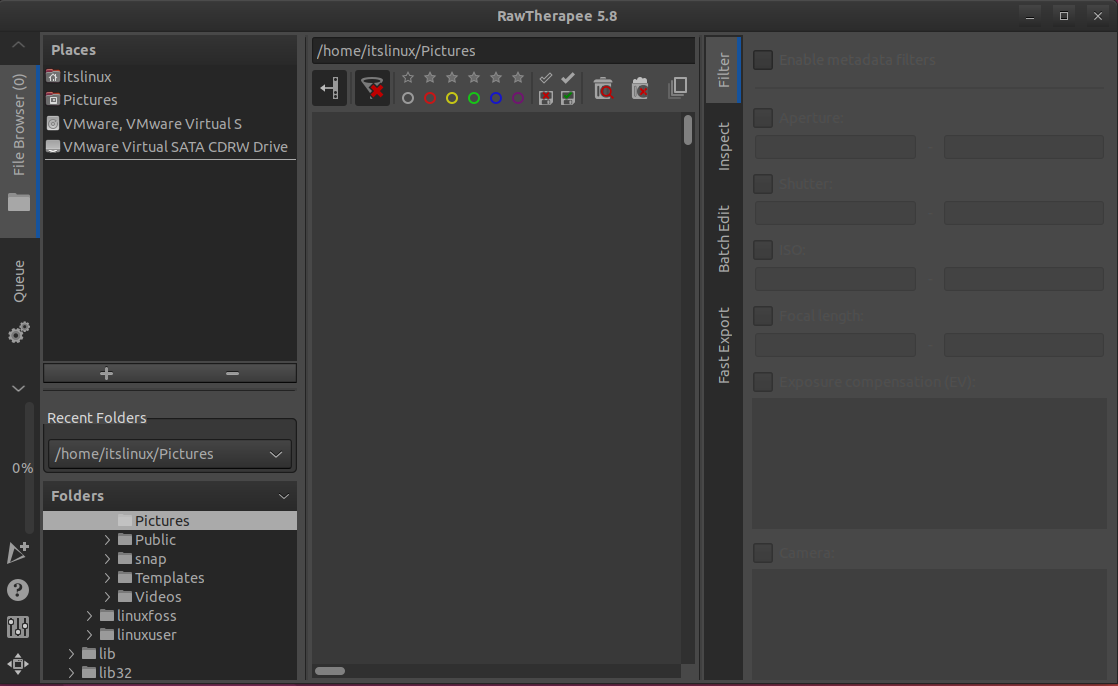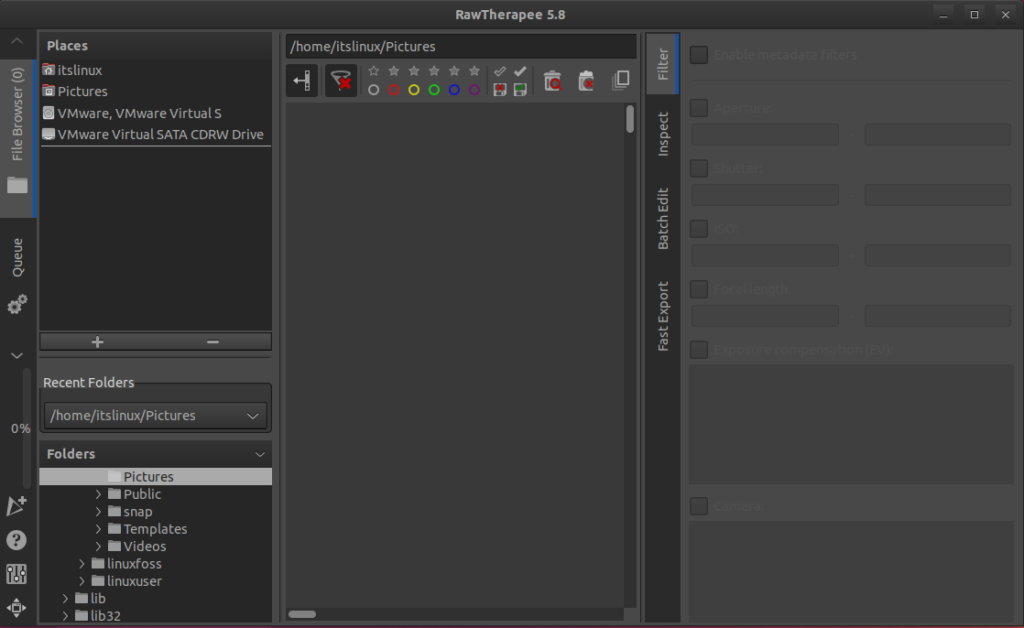 How to Install RawTherapee on Ubuntu?
To install Rawtherapee on Ubuntu, open the terminal and type the following command:
$ sudo apt install rawtherapee

6. Pinta
Pinta is an open-source, cross-platform image editing software that allows users to create, edit, and manipulate images and has some promising features listed below:
It is a lightweight and user-friendly software that is a great alternative to some of the more heavy-duty image editors like GIMP.
It is built with simplicity and ease of use in mind, and it is designed to be easy to learn and use for people with no prior image editing experience.
Its user interface is intuitive and straightforward, allowing users to quickly access all the basic tools and features needed to edit images.
It includes various drawing and selection tools, such as pencil, brush, eraser, and magic wand, as well as basic image adjustments like brightness and contrast, color balance, and image rotation.
It also offers a variety of image effects and filters, such as sharpen, blur, and pixelate, that can be applied to enhance the overall look of an image.
Additionally, it supports basic image cropping, resizing, and a feature to add text to the image.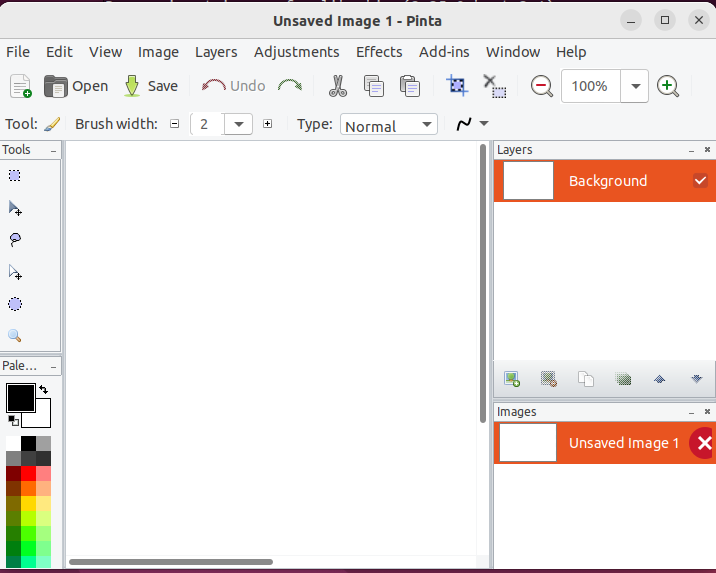 How to Install Pinta on Ubuntu?
You can install pinta on Ubuntu by typing the following command in the terminal:
We have covered six efficient image editors which we can utilize in 2023.
Conclusion
There are many different image editors available for users to choose from, each with their own unique features and capabilities. GIMP, Inkscape, Krita, Darktable, RawTherapee, and Pinta are six such image editors that are popular among professionals and hobbyists alike. Their detail has been discussed in the article to help you choose the right one made for you.