What is GParted?
GParted is a free partition editor that permits you to manage your partitions graphically. GParted allows you to copy, resize and move partitions without losing data. It also authorizes a user to:
Shrink or increase your C: drive
Make room for new operating systems to be installed.
Perform actions on partitions such as creating, deleting, resizing, and moving, checking, copying, pasting, and labeling.
Tries to recover data from deleted partitions.
You can also manipulate file systems such as: btrfsm, xfs, exfat, nilfs2, reiserfs / reiser4, lvm2 pv, hfs / hfs+, fat16 / fat32, ext2 / ext3 / ext4, ufs, udf, ntfs, linux-swap
GParted enables you to easily manage your disk partitions:
Align partitions to conventional cylinder boundaries or mebibyte (MiB) borders.
Create, relocate, copy, resize, verify, label, set new UUID, and delete partitions using partition tables e.g, msdos or gpt.
Attempt to recover data from deleted partitions.
Partition flags can be enabled and disabled e.g., boot or hidden.
GParted works with the following storage devices:
RAID (Redundant Array of Independent Disks) Devices
Hard disc drives (HDDs) are storage devices that store data on a computer e.g., SATA, SCSI, and IDE.
Sizes of all industries, for example, devices with 512, 2048, 4096-byte sectors, and more.
Attempt to recover data from deleted partitions.
Solid State Drives (SSDs), and Non-Volatile Memory Express (NVMe), USB memory sticks,  devices are examples of flash memory devices.
That's all about GParted. Now Let's look at how to install and use the GParted on Ubuntu 20.04.
Installing and Using GParted on Ubuntu 20.04
Step 1: Open the terminal by pressing 'CTRL+ALT+T' or search it manually in the activities and update the packages list
$ sudo apt update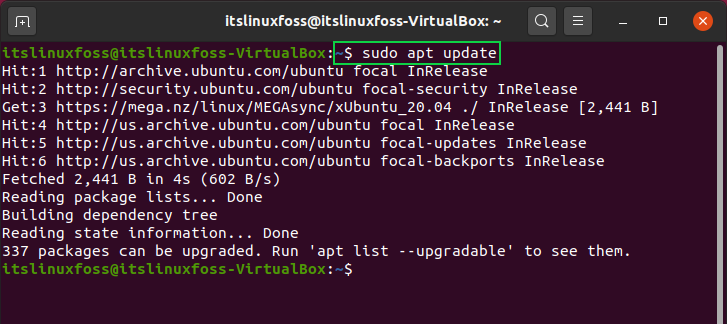 Step 2: Write-out the following command to install GParted on your system.
$ sudo apt install gparted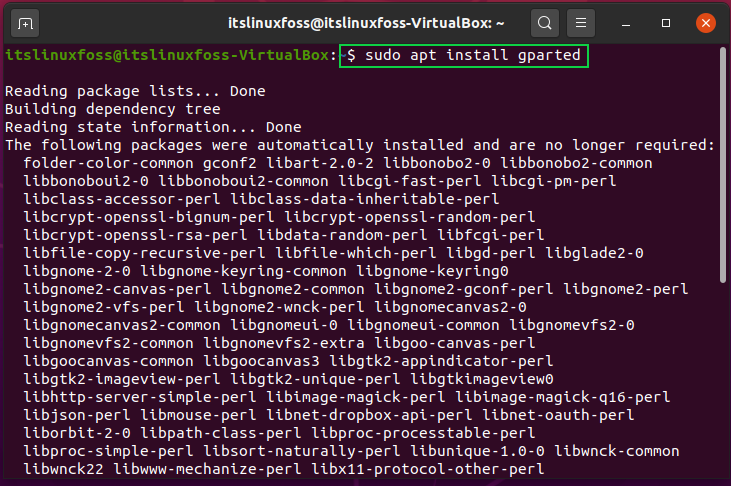 The output declares that now GParted exists on the system.
Step 3: Search for GParted in the Activities.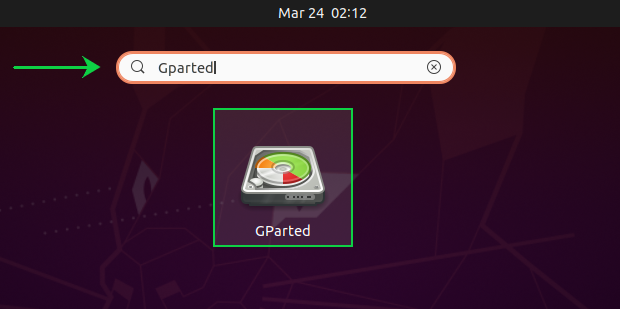 In below image, you can see the main interface of the GParted application.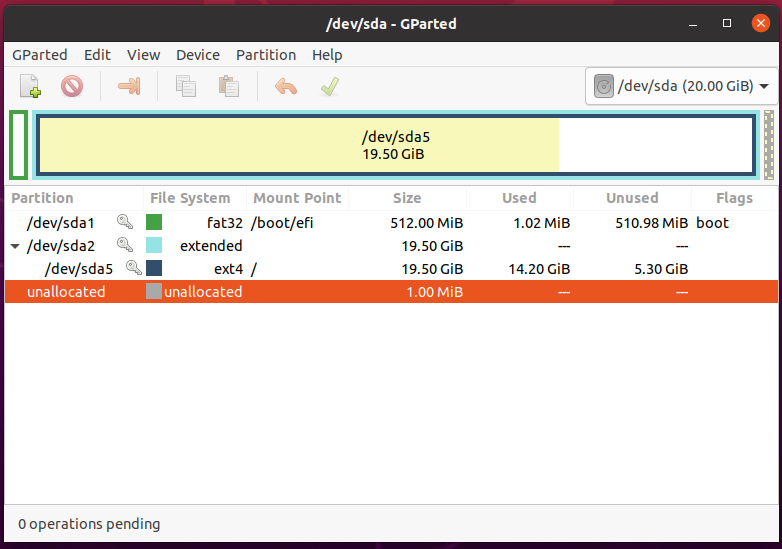 Click on the 'Create Partition Table' from the  sub-menu of Device.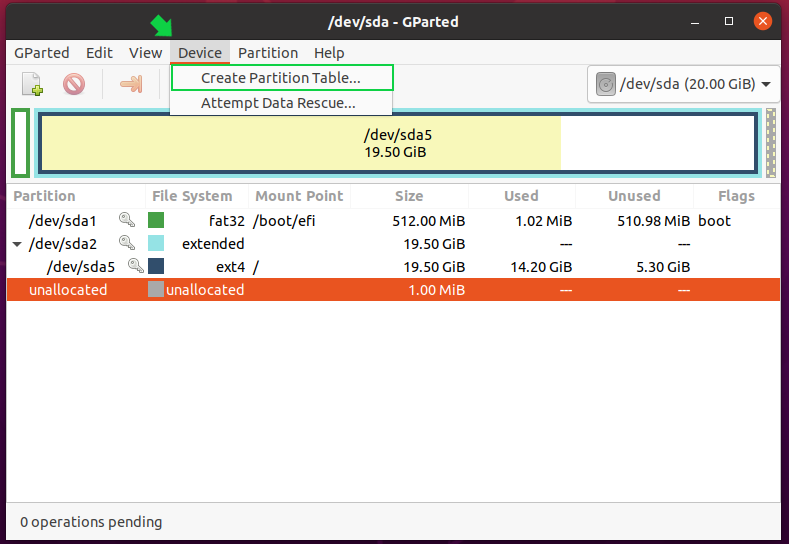 Click on the 'New' Option to specify the properties of this new partition such as Partition name, size, file system, label, etc.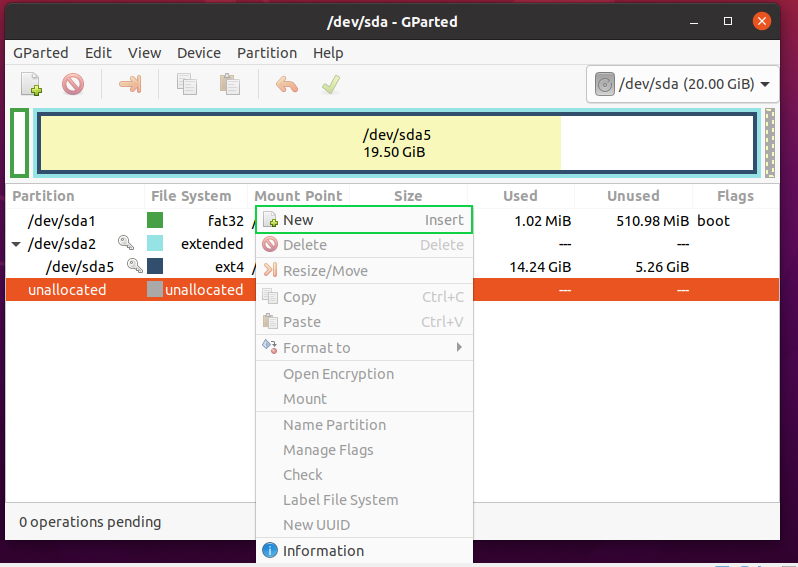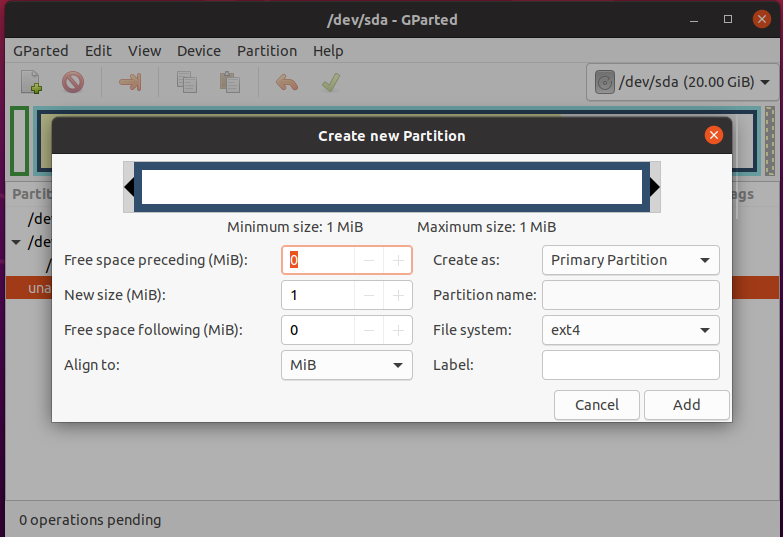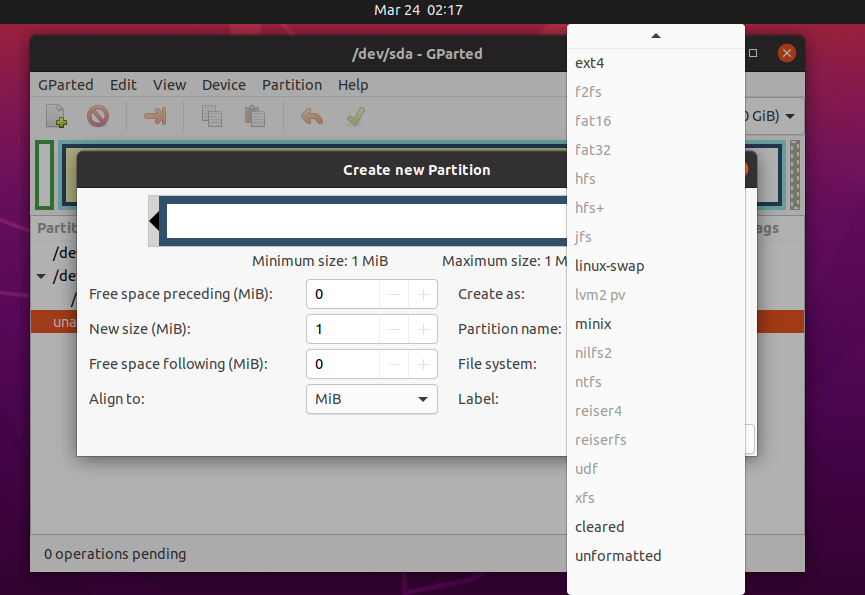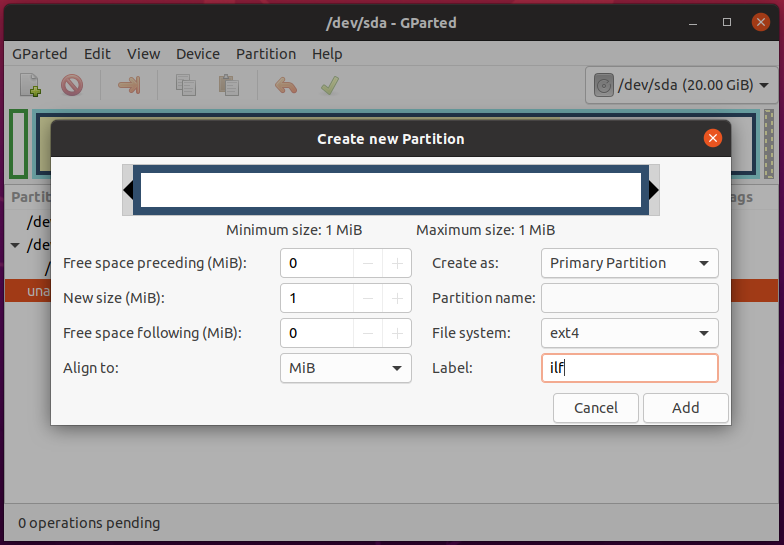 After setting up the new partition, now it is ready to be in use.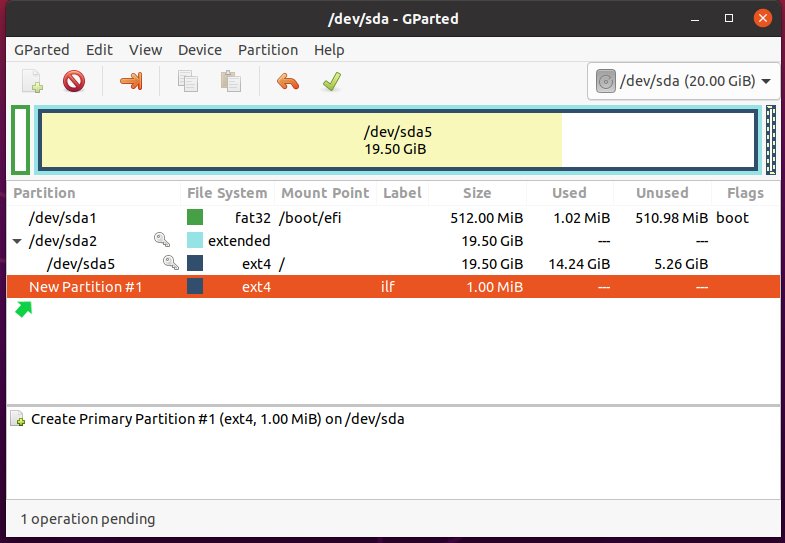 User can also change the existed partition format.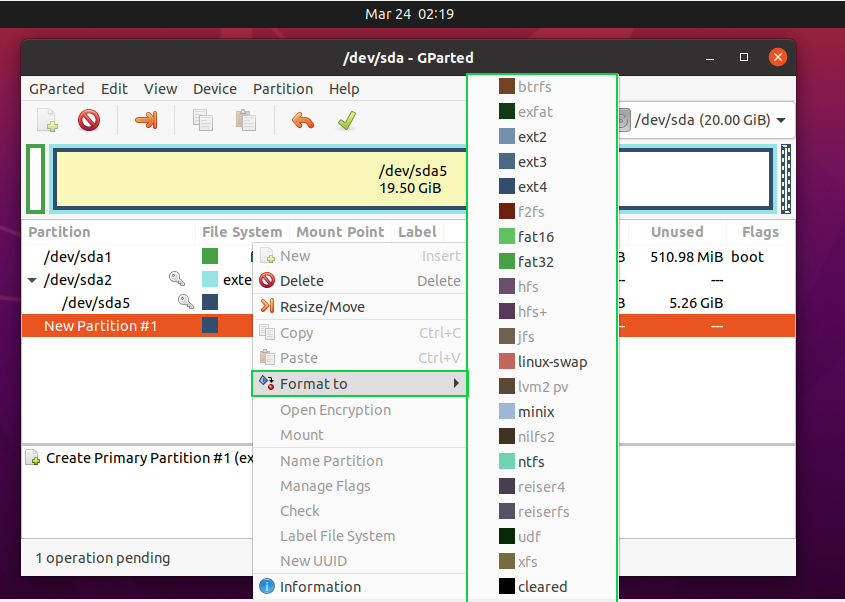 Resize or move the partition by following the process shown in the proceeding pictures.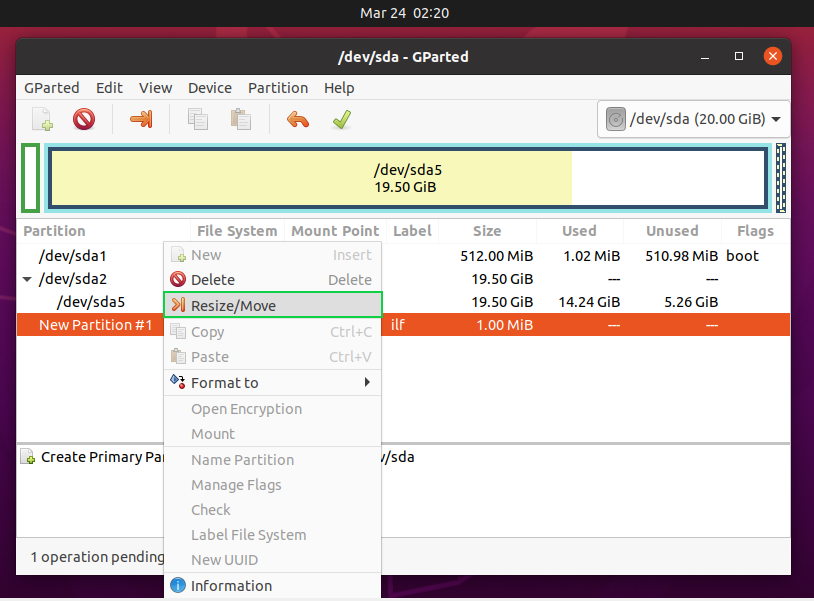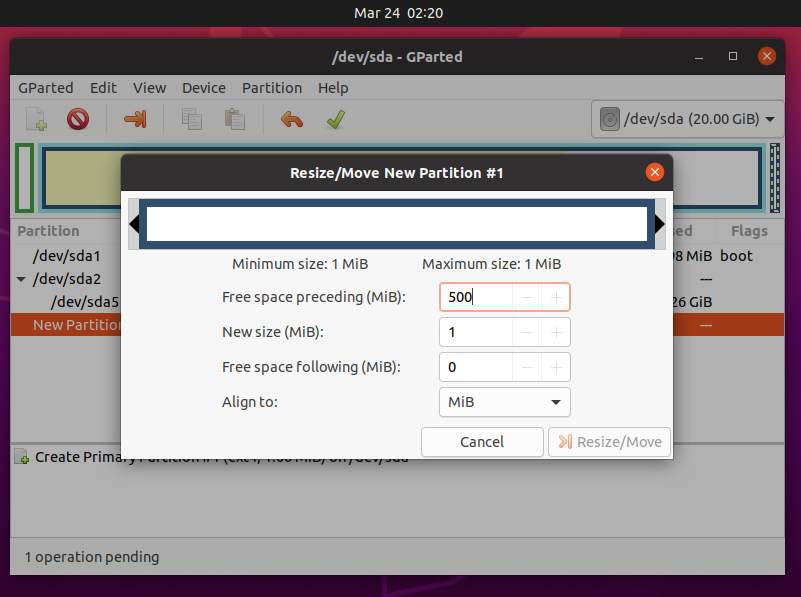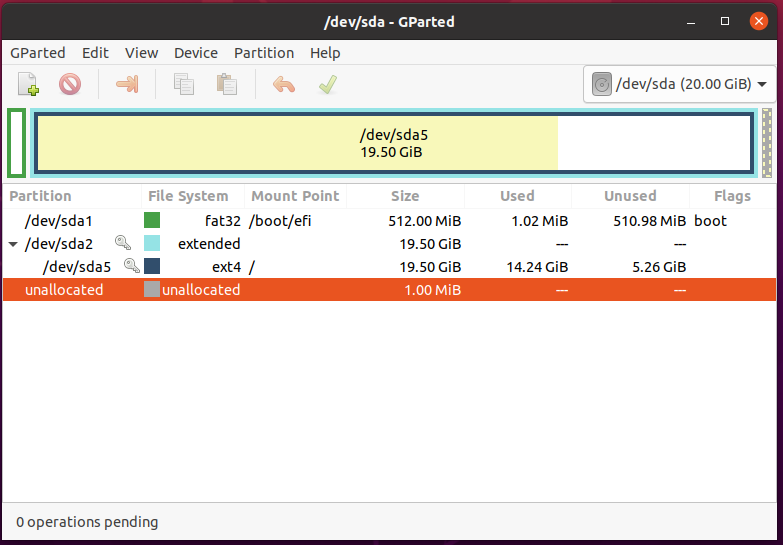 Conclusion:
We have shown you the method of installing GParted on Ubuntu 20.04. Furthermore, we have also learned about creating, naming, re-sizing, moving, and formatting a partition.