Evernote is the most widely used note-taking and personal-organization application in the software industry. It's common among people who want their notes to be organized and accessible from anywhere, thanks to the cloud. Evernote's ability to interact with other applications such as  Drive, Gmail, and Outlook is one of its most appealing features. Users can also exchange knowledge from these applications with one another which boost-up productivity between them. It also provides a document scanner which means that there is no chance to miss any vital information. Of course, all of this is in addition to the standard features of a note-taking app including storing and backing up notes that can include images, photographs, and other documents.
Why do people love Evernote so much?
Check out the below-given valid reasons to justify the asked statement.
It can be combined with a wide range of other Web-based services. For instance, you can create a daily task list from Google Calendar (complete with today's weather), create a drag-and-drop import feature for Dropbox files, and use it with some online project management tool of your choice to keep track of tasks. Evernote provides the whole combination of facilities in a single application. Isn't it amazing?
It can be as precise as you want it to be.
Are you reading something important on your browser? You can save it to Evernote with a single click and return to it later. You can also highlight key sections and save a plain-text version of whatever content you are looking at with a few more taps. It also provides the support for using Skitch to annotate a screenshot of the webpage.
It's a fantastic online file cabinet with fantastic search capabilities. You can store anything and transform it into a searchable form. Evernote's search feature will index PDFs, images, text files, and even handwriting, making it easier to find later when you need it with less searching. You can use notebook stacks, tags, saved searches,  hyperlinks, and shortcuts.  It beats the concept of having a physical file cabinet.
Evernote can connect to all of your computers. You will be able to leave your paper notes at home and just carry your tablet. Without having to lug a heavy laptop around, you can write up a comprehensive to-do list on the laptop, with its superior editing tools, and then shift it on the phone later doing the job.
Its content is easy to share. With only the email address of someone and a click of the mouse, users can share any extremely detailed notes with anyone, even if they don't have Evernote.
It also provides unlimited storage capacity. Furthermore, It's nice to be able to save everything without fear of your hard drive failing or your flash drive being lost.
That's all about Evernote. Now, let's start its installation guide on Ubuntu 20.04. Firstly, ensure that you are using the terminal as a 'superuser'.
Installing and Using Evernote on Ubuntu 20.04
Method 1: Using snap command
Step 1: Open the terminal by pressing 'CTRL+ALT+T' or search it manually in the activities and update the packages list.

$ sudo apt update

Step 2: Utilize the given snap command to install Evernote
$ sudo snap install evernote-web-client


Method 2: Using Ubuntu Software Center
Step 1: You can also install Evernote on your Ubuntu 20.04 by  searching it manually in the Ubuntu software center


Step 2: Click on the Install button after finding the exact Evernote application from the query result.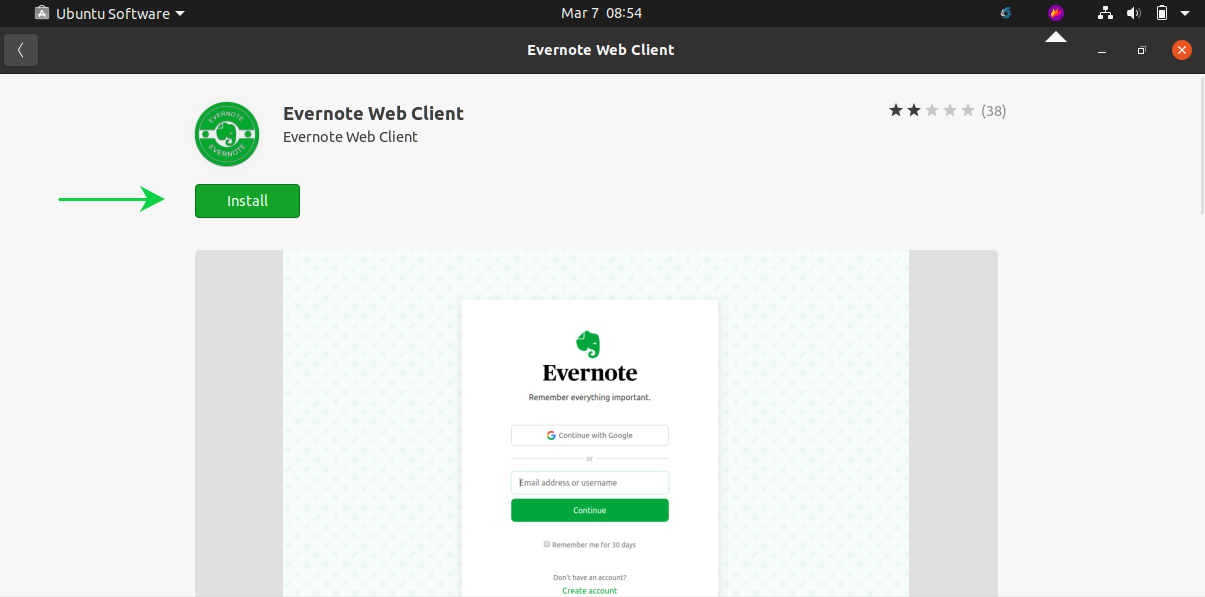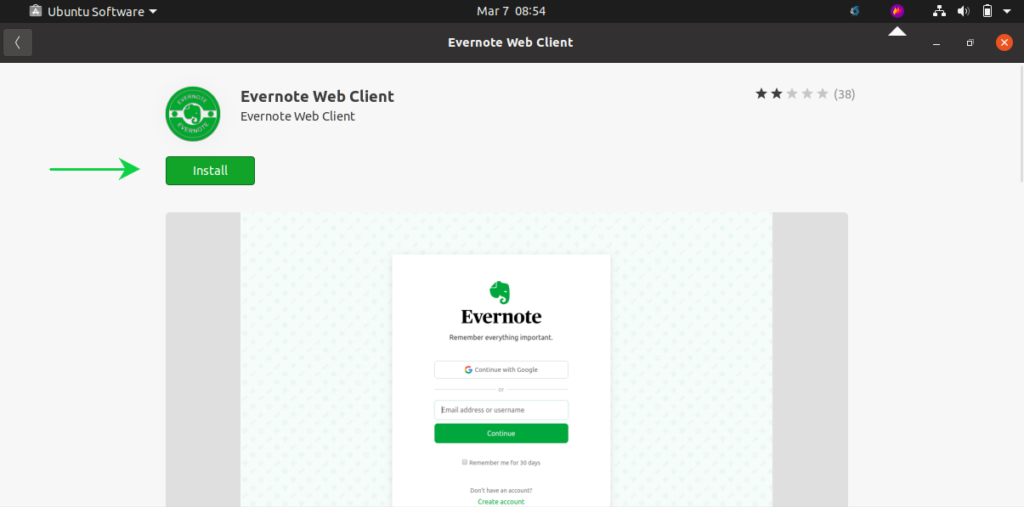 Step 3: Search 'Evernote' in the activities bar to confirm its existence on your system. Open this application to explore and use.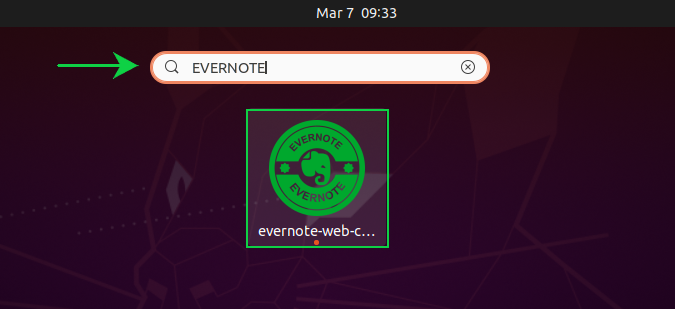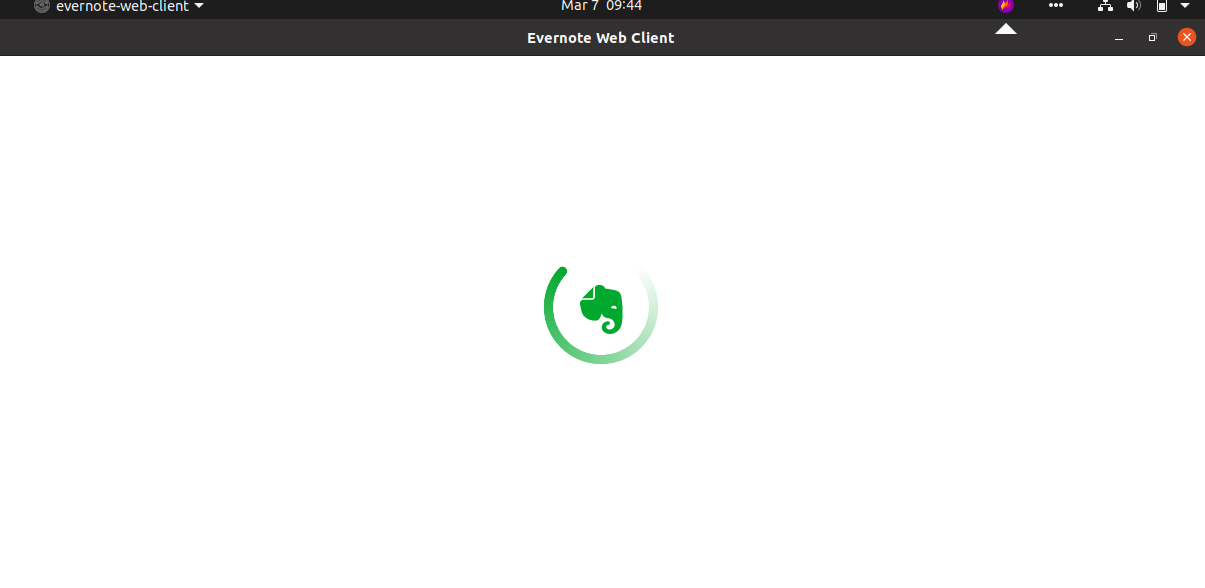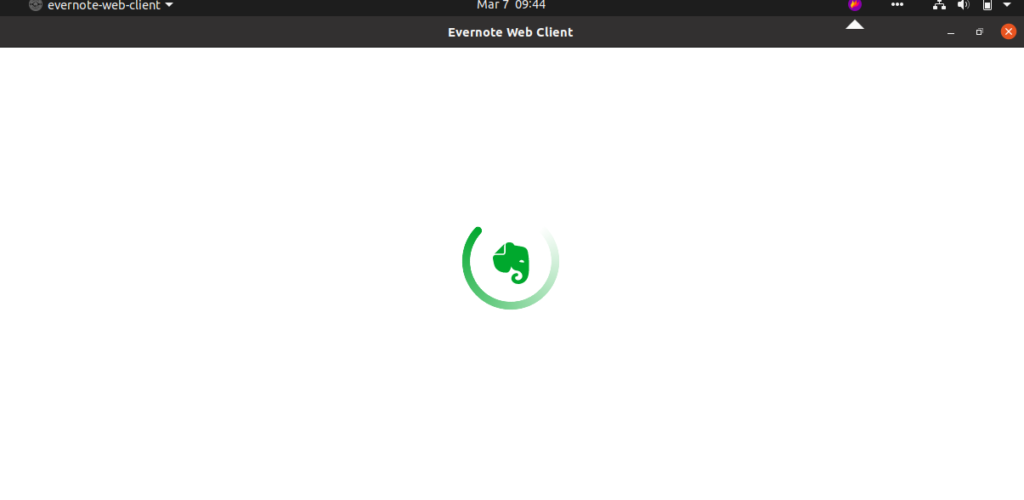 Step 4: Have a look at the guide for a better understanding of the GUI of the Evernote application.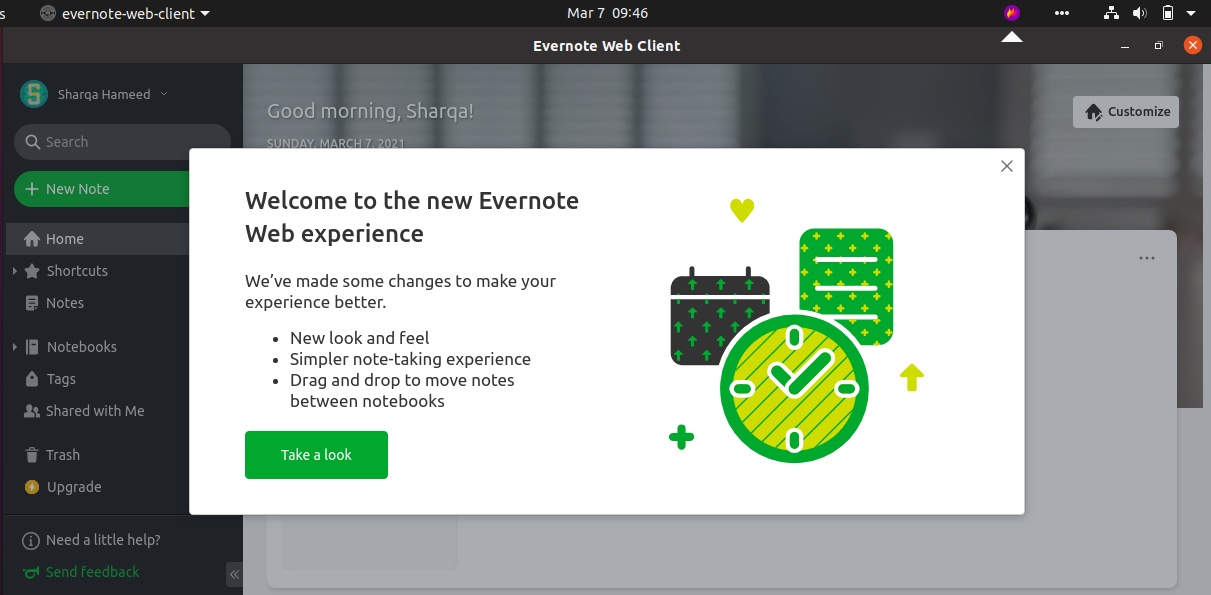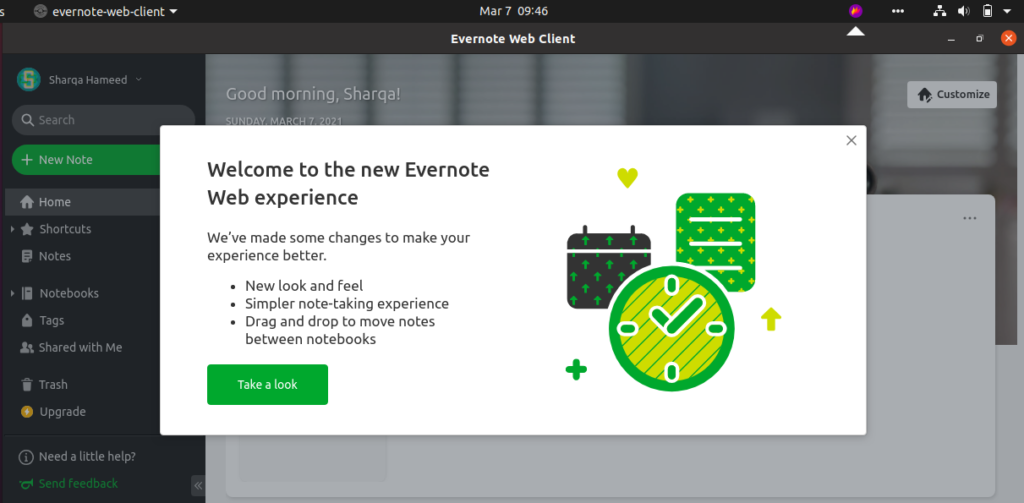 You can create a single note with many notebooks, tags, and shortcuts in it.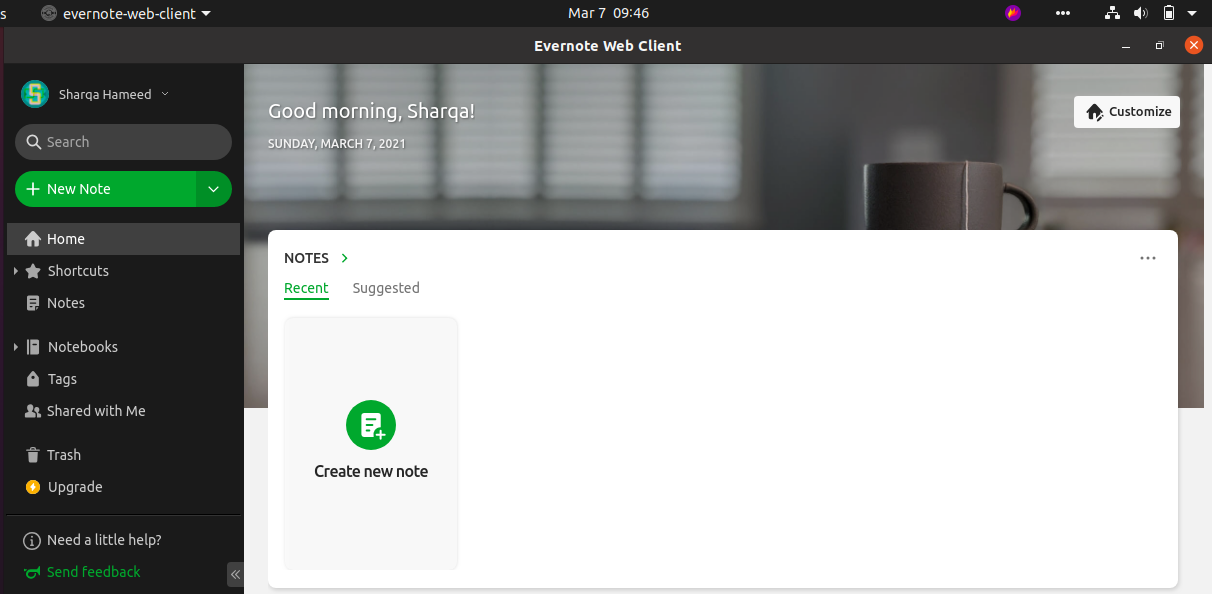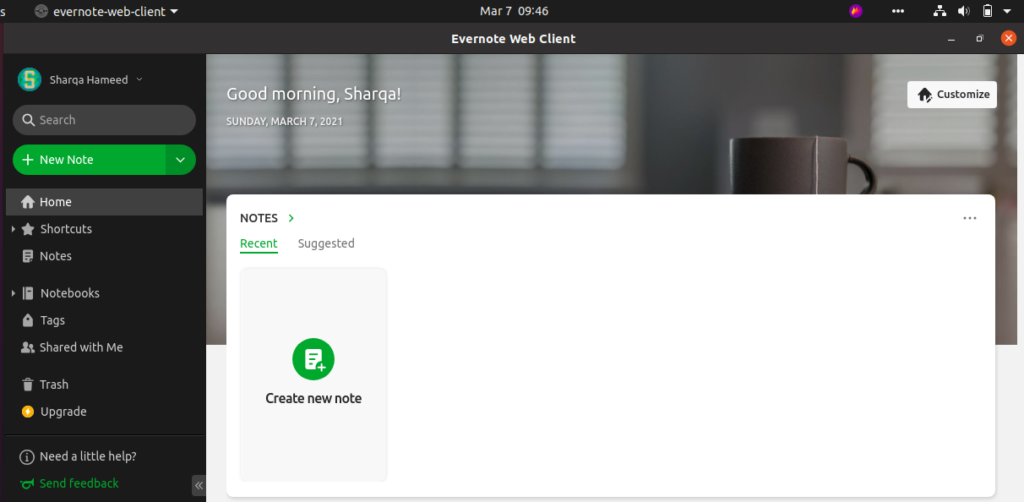 That's all about the Evernote application from our side. Explore it further by stepping into it.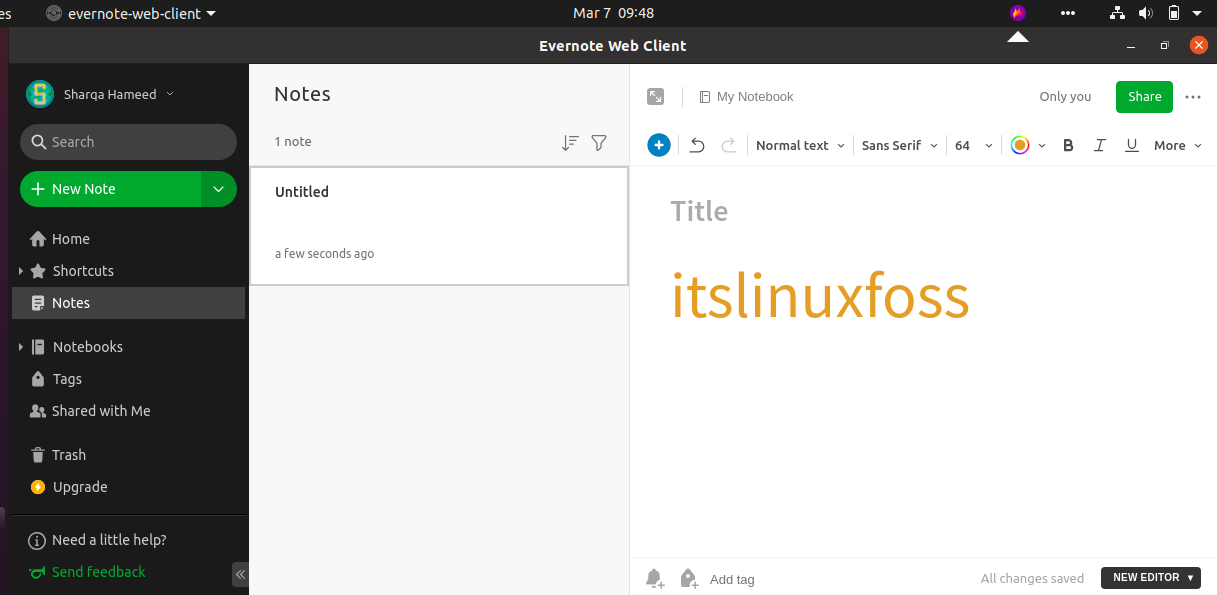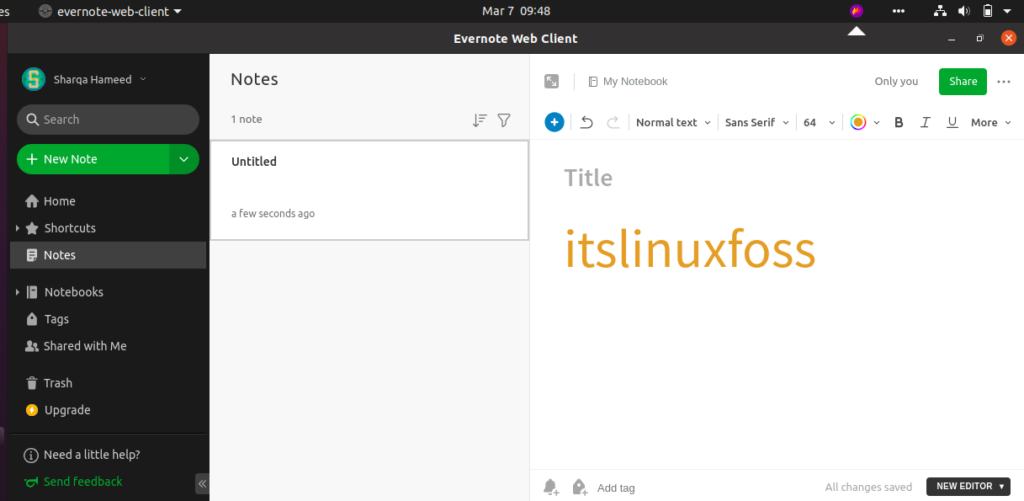 Conclusion:
We have talked about the Evernote application and the factors behind its popularity in the software market. We have also shown a complete procedure to install and use it on your Ubuntu 20.04 system.