Blender is an open-source and freely available 3D modeling program. Motion tracking,  rigging, rendering, animation, simulation, modeling, compositing as well as  2D animation pipelines, video editing are all supported in this 3D platform.
Let's look at some of the commendable features of Blender 3d:
Modeling, Sculpt, UV
Blender's extensive modeling tools make it simple to create, edit and transform your models with Inset, Edge slide, grid, and bridge fill, among other features.  It also has other features such as Advanced sculpting tools and brushes, 3D painting with textured brushes, Multi-resolution and dynamic subdivision, masking Python scripting for custom add-ons and tools.
Cycles Render Engine
The Cycles engine in Blender is a robust objective path-tracer that produces remarkable  ultra-realistic rendering. Blender supports GPU rendering PBR shaders, Viewport preview in real-time CPU, VR rendering, and HDR lighting.
VFX
Undoubtedly, It is the best tracker in the market, according to VFX experts. It provides camera and object tracking that are ready for production. In your 3D scene, you can import raw footage, can mask and track it, and see the camera movements in real-time. View your 3D scene and track footage in real time. It also supports tripod solvers, reconstruction planar tracking, and auto/ manual camera tracking.
Drawing 2D in 3D and Story Art
In the viewport, Combine 3D and 2D in real-time using Parent to 3D objects, Fill Sculpt brush strokes, Onion Skinning Layers, etc. Moreover, Sculpt brush strokes are also supported. It also seems reasonable for drawing directly in a 3D viewport. It gives story-boarders and 2D artists unrivaled workflow flexibility.
Rigging and Animation
Blender is now being used for a variety of commercials, short films,  feature films, and TV series which happened because of its high-quality rigging and animation tools such as custom bone shapes, automatic skinning, etc.
Make it Your Own
Blender's user interface is dominated by Python. Color, font, size all can be changed easily.  Make your own or use the community's hundreds of add-ons with Blender's Python API.
That's all about Blender 3D. Now, let's start its installation guide on Ubuntu 20.04. Firstly, ensure that you are using the terminal as a 'superuser'.
Installing Blender 3D on Ubuntu 20.04
Method 1: Using Snap Command
Step 1: Open the terminal by pressing 'CTRL+ALT+T' or search it manually in the activities and update the packages list.

$ sudo apt update

Step 2: Utilize the snap command to install blender 3D.
$  sudo snap install blender --classic

Method 2: Using Ubuntu Software Center:
Step 1: Search for Ubuntu software in the activities search bar.

Step 2: Select the search bar available at the top left corner.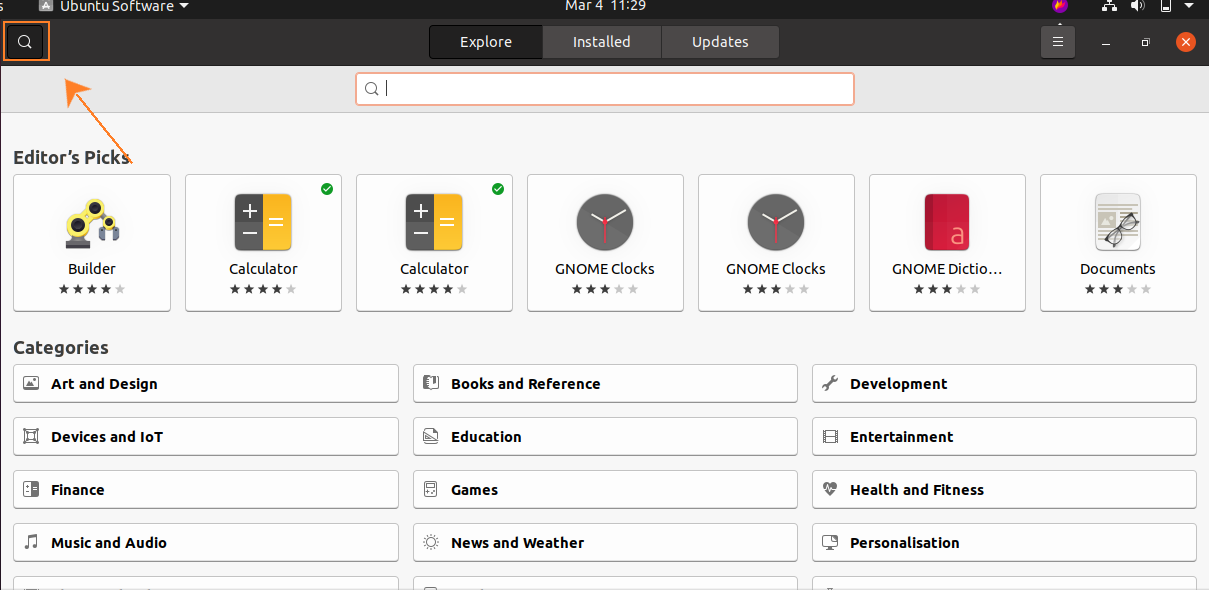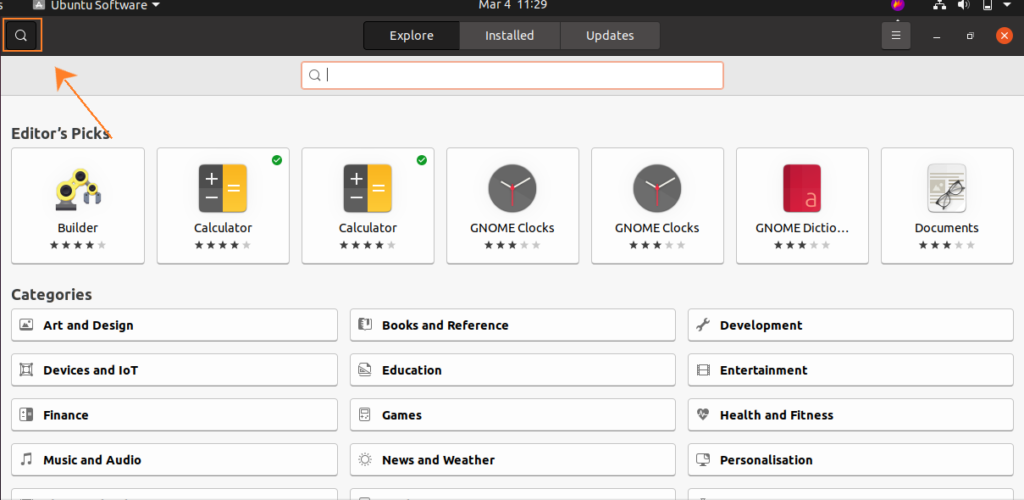 Step 3: Search for the 'Blender' in the bar.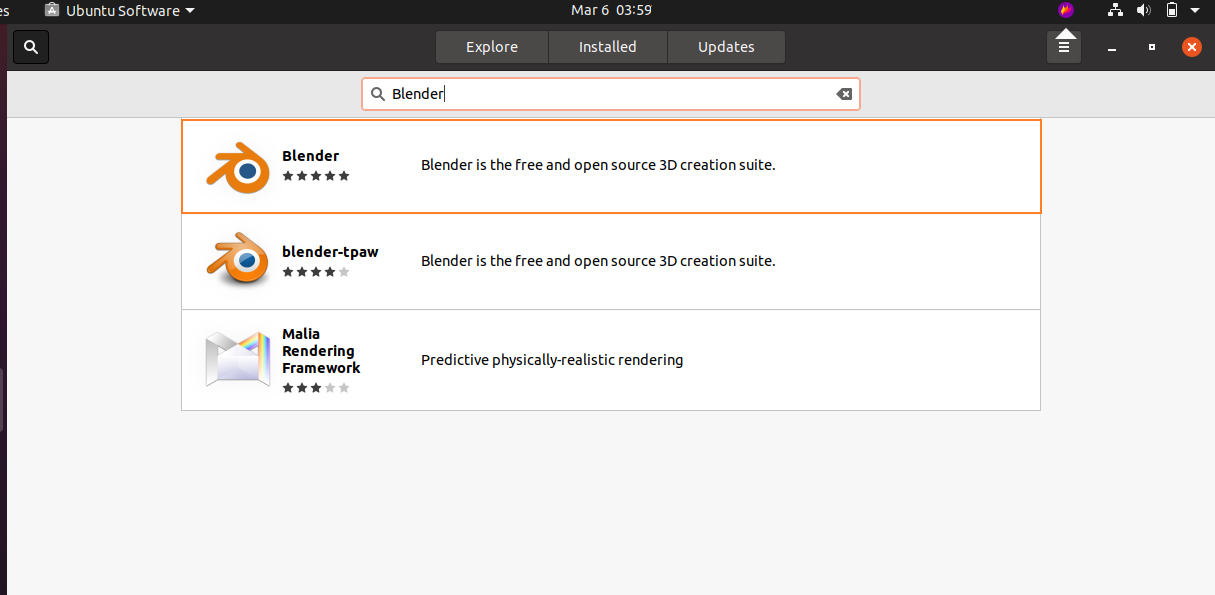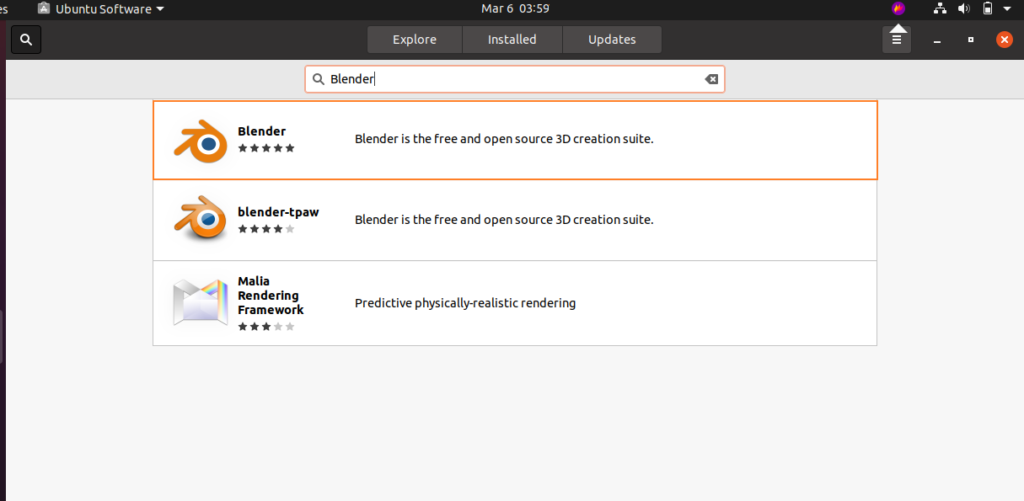 Step 4: After finding the required application, click on the 'install' button.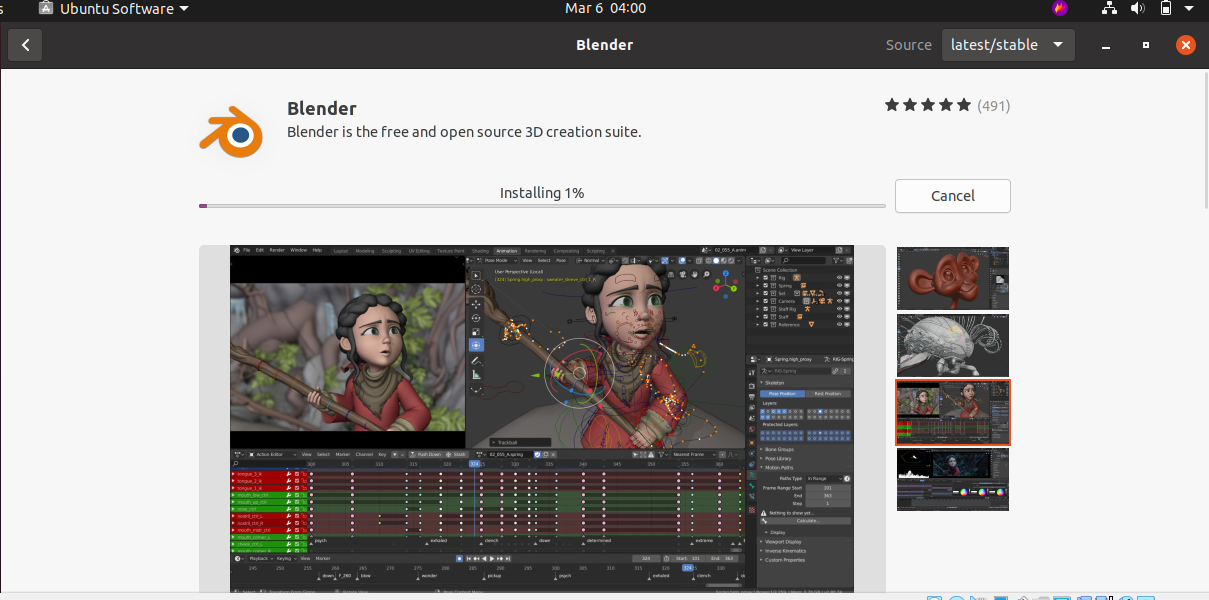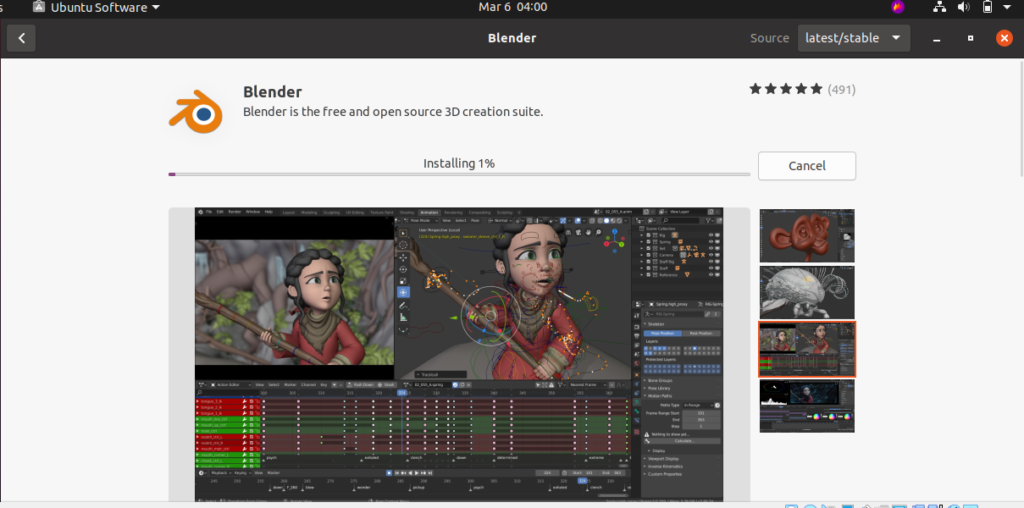 Step 5: After the successful installation of Blender, search for it in the activities, and open the application.

Step 6: Select your language and you are all ready to go. Enjoy 3D modeling with Blender!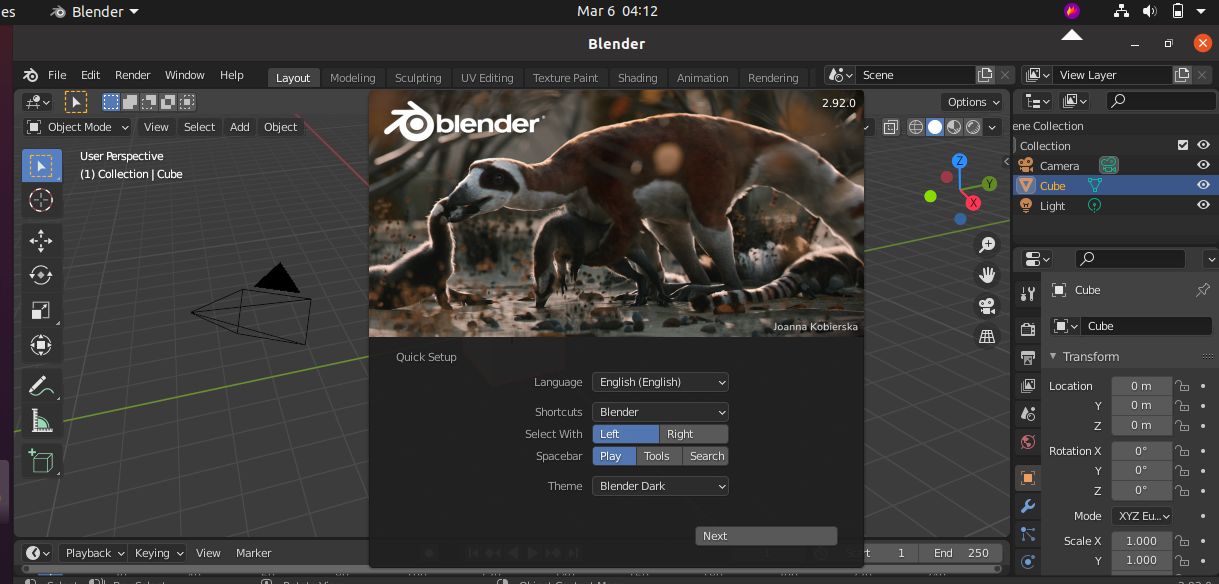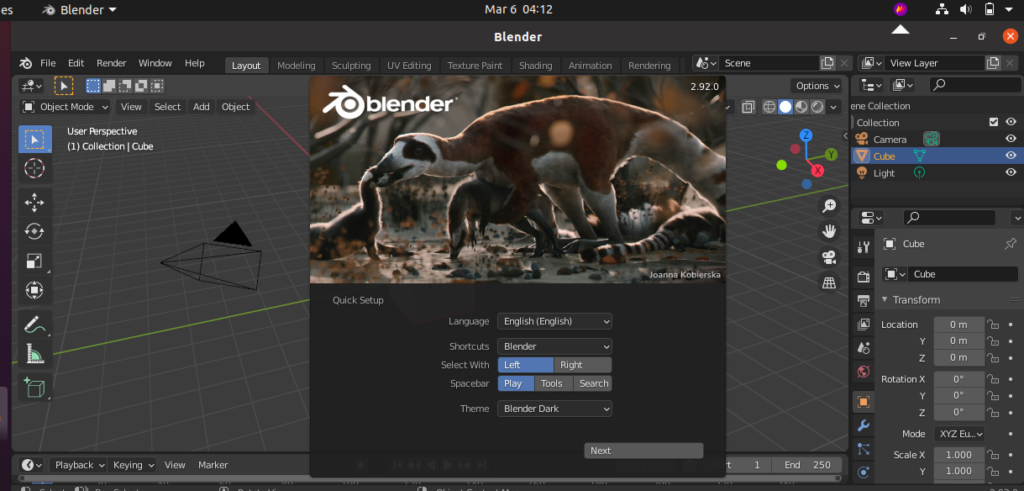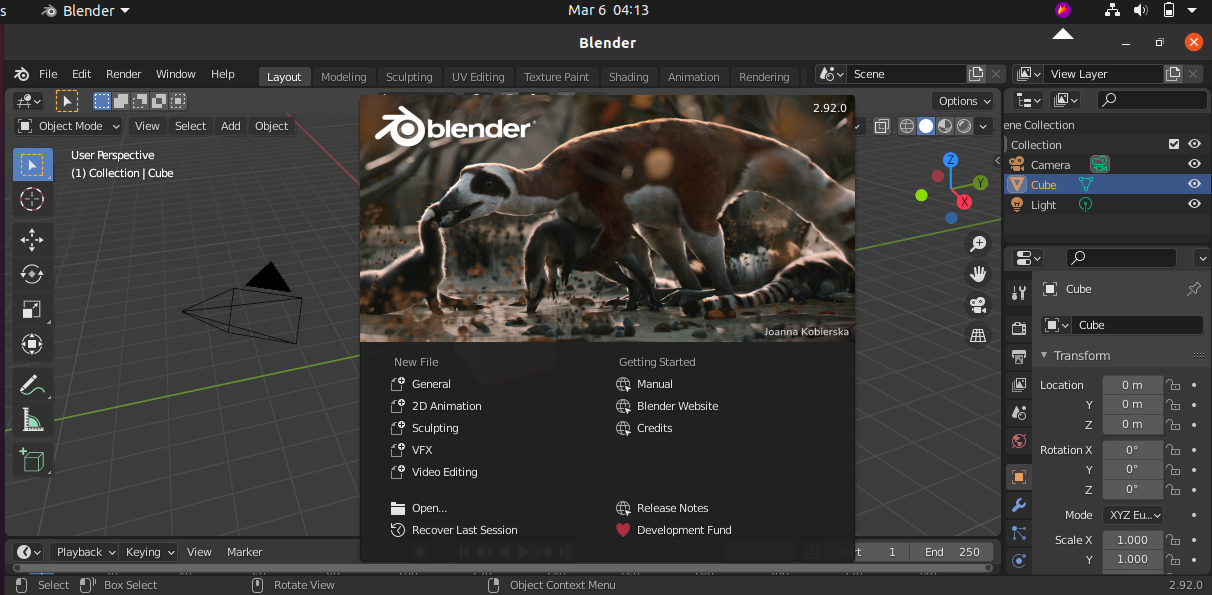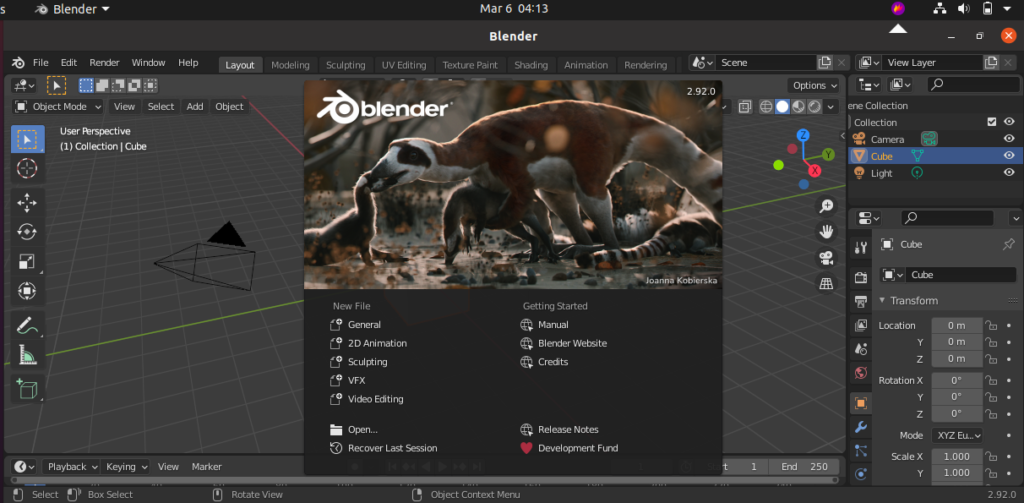 Conclusion:
We have discussed the features of the 3D blender. We have also shared the two installation methods of Blender 3D on Ubuntu 20.04.