Thunderbird:
Thunderbird is a Mozilla-based new, lightweight mail, and RSS client. It works with a variety of email accounts such as POP, IMAP, and Gmail. It also has an integrated learning Spam filter which allows for easy mail organization through virtual folders and tags. Extensions can also be installed to add more features.
Thunderbird reigns supreme. It is completely compatible with your corporate customers who use Outlook on Exchange server, as it includes built-in support for Outlook calendar or meeting invites. It is quick, lightweight, and is perfect for SSL IMAP.
If you've ever used Outlook, Thunderbird will feel incredibly familiar. There are no hidden ribbon menus like in Outlook. For preference settings, everything is in a classic layout, and the message view is very compact. It is a classic technique which Linux users should appreciate. Thunderbird has a separate inbox for each email account. This is a feature that most of the Ubuntu users would like to have. Many users disagree while preferring to combine work and personal emails in a single inbox, such as Outlook 365.
For the longest time, the Windows Outlook client had a self-imposed default 2GB limit on IMAP inboxes. Pretty annoying, since your 64-bit OS can handle bigger. The funny thing is when it hit the limit, it wouldn't warn you. It would simply stop receiving new emails.
The Windows Outlook client imposed a 2GB limit on IMAP inboxes by default for a long time. It is complicated because your 64-bit operating system is capable of handling more. The funny thing is that it didn't warn you when it reached its limit. It would merely cease to accept the new email.
Now let's discuss some of the commendable features of Thunderbird.
Features:
Message Archiving is a feature that allows you to delete messages from your inbox without deleting them.
Filter messages by New Messages, Keywords, Contacts, tags, and more with the Quick Filter Toolbar.
With themes and personas, you can instantly change the presence and feel of Thunderbird.
Smart Folders – combine folders to handle different email accounts.
Add-ons Manager – Add-on ratings, recommendations, descriptions, and images.
Chat – directly add Facebook, Twitter, and other sites related to social media in Thunderbird.
Tabbed E-mail  – store emails in various tabs so you can easily switch between them.
That's all about Thunderbird. Now, let's start its installation guide on Ubuntu 20.04. Firstly, ensure that you are using the terminal as a 'superuser'.
Installing Thunderbird on Ubuntu 20.04
Method 1: Using CLI
Step 1: Open the terminal by pressing 'CTRL+ALT+T' or search it manually in the activities and update the packages list.

$ sudo apt update

Step 2: Write-out the following command to install Thunderbird on your Ubuntu 20.04.
$ sudo apt install thunderbird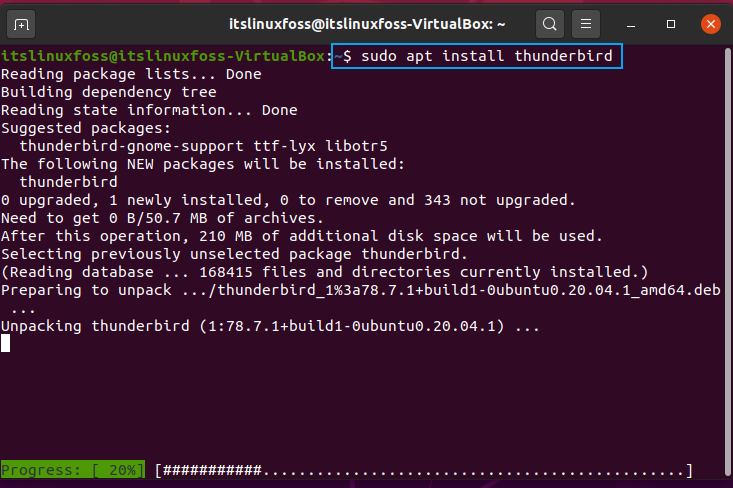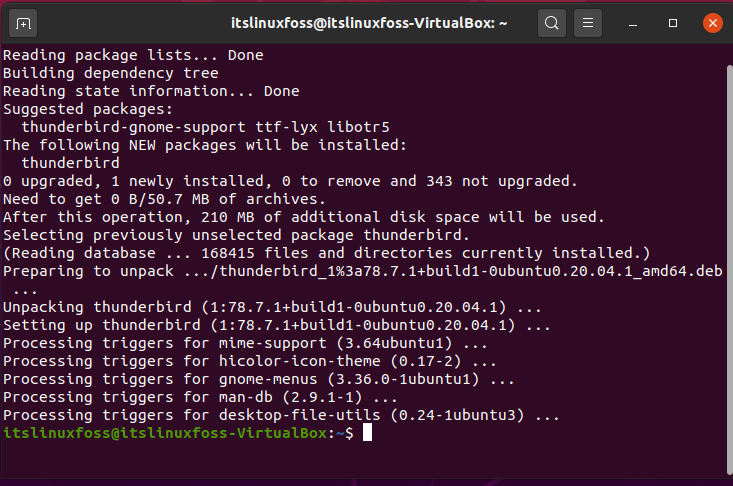 The output declares that now you have Thunderbird on your system.
Method 2: Using Ubuntu Software Center
Step 1: Open-up the Ubuntu software center by typing 'Ubuntu software' in the activities search bar.
Step 2: In the explore tab, select the search bar icon from the top left side.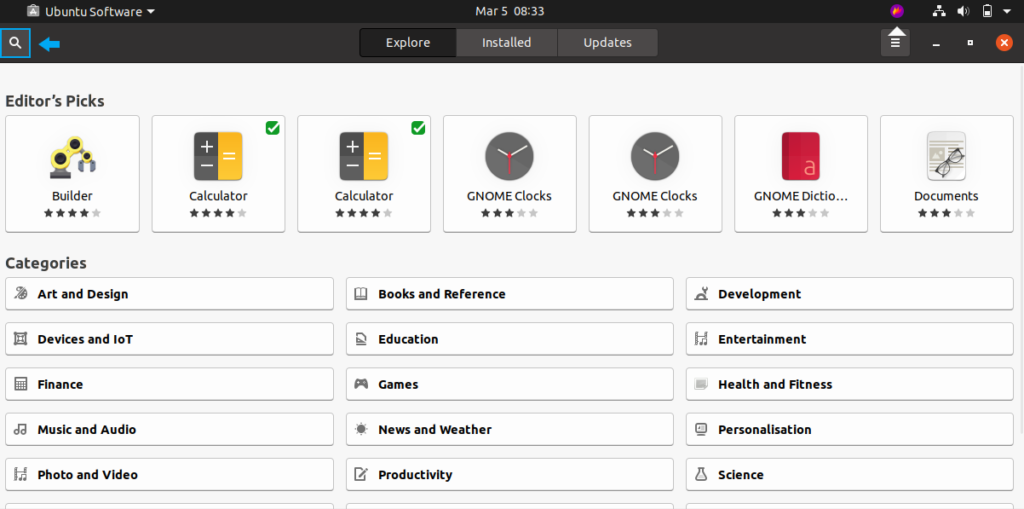 Step 3: Type 'Thunderbird mail' in the search bar.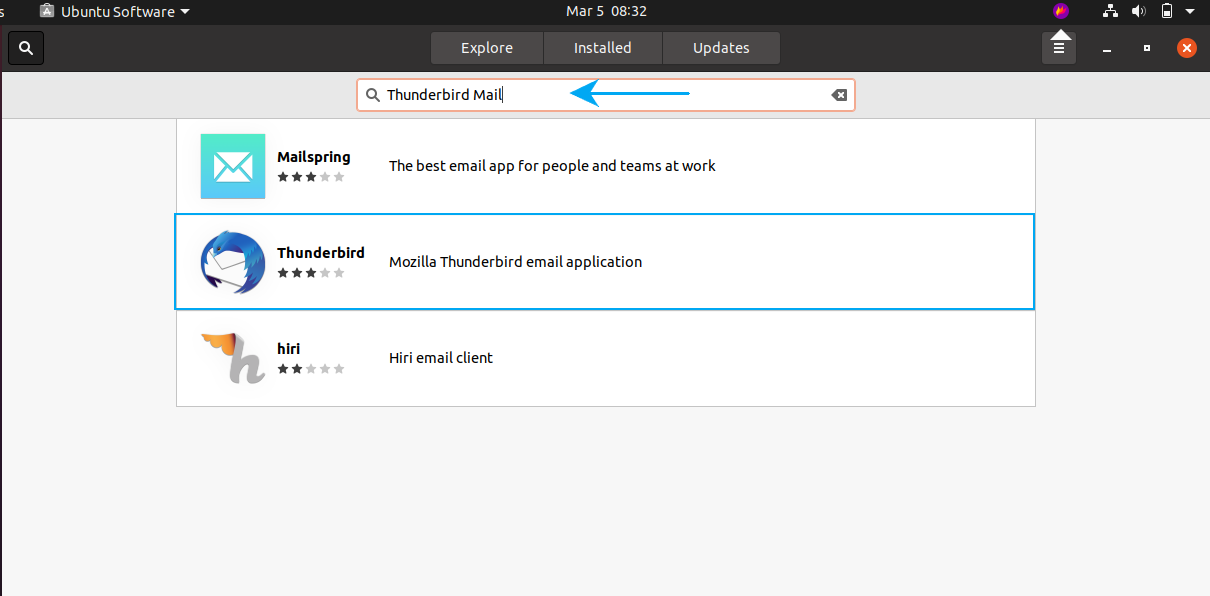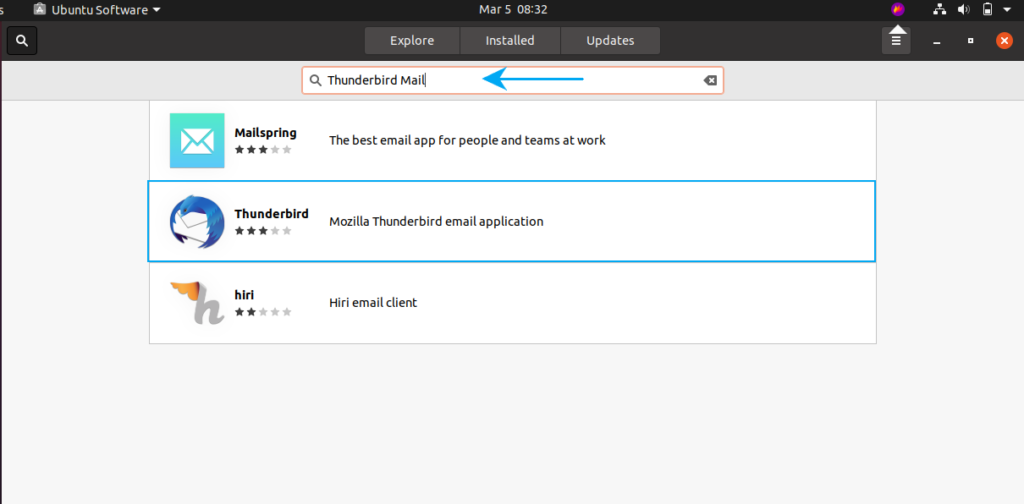 Step 4: After getting the searched application, Click on the 'Install' button.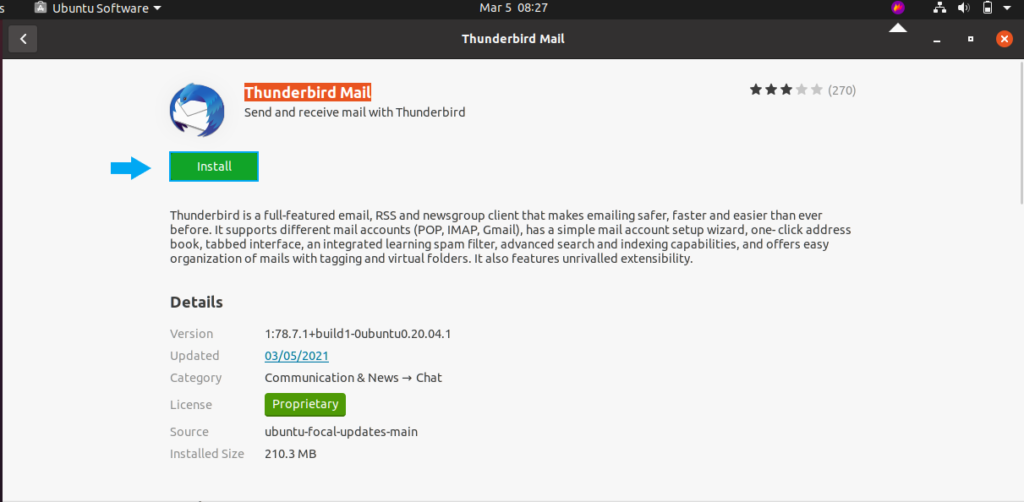 Wait for a few minutes as the installation will take some time.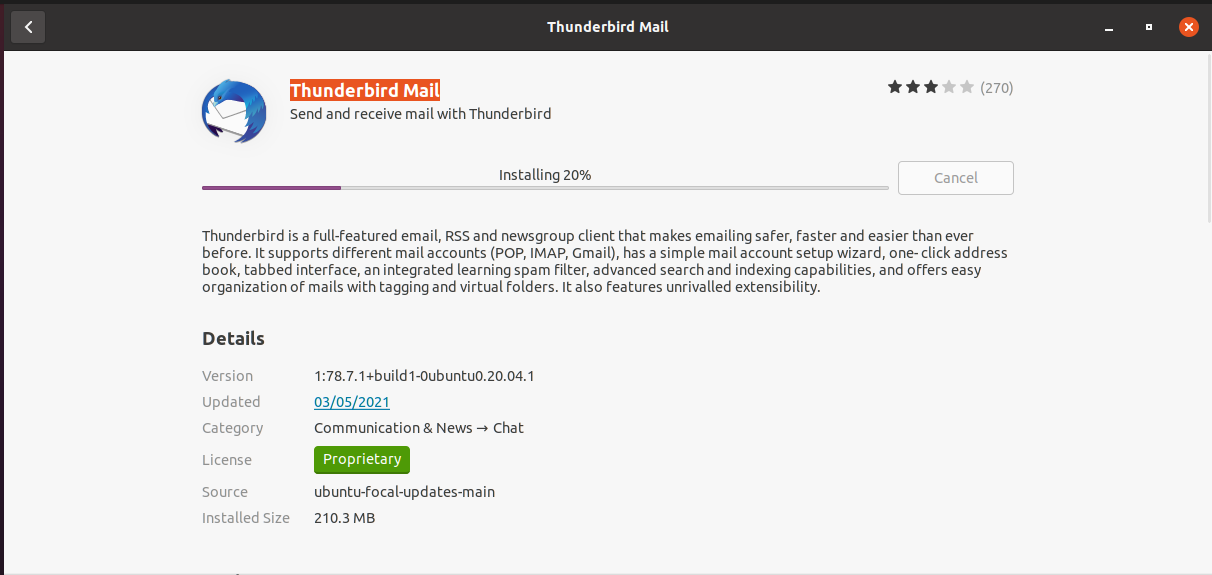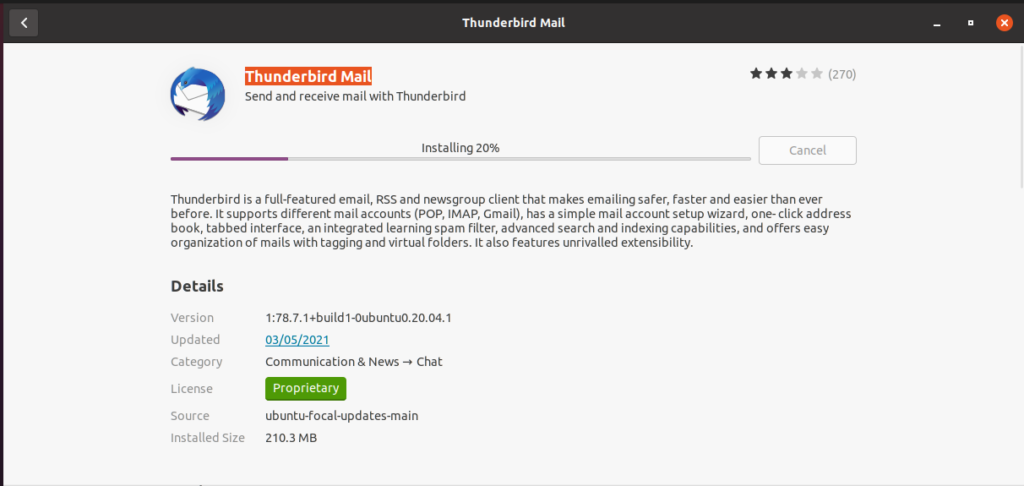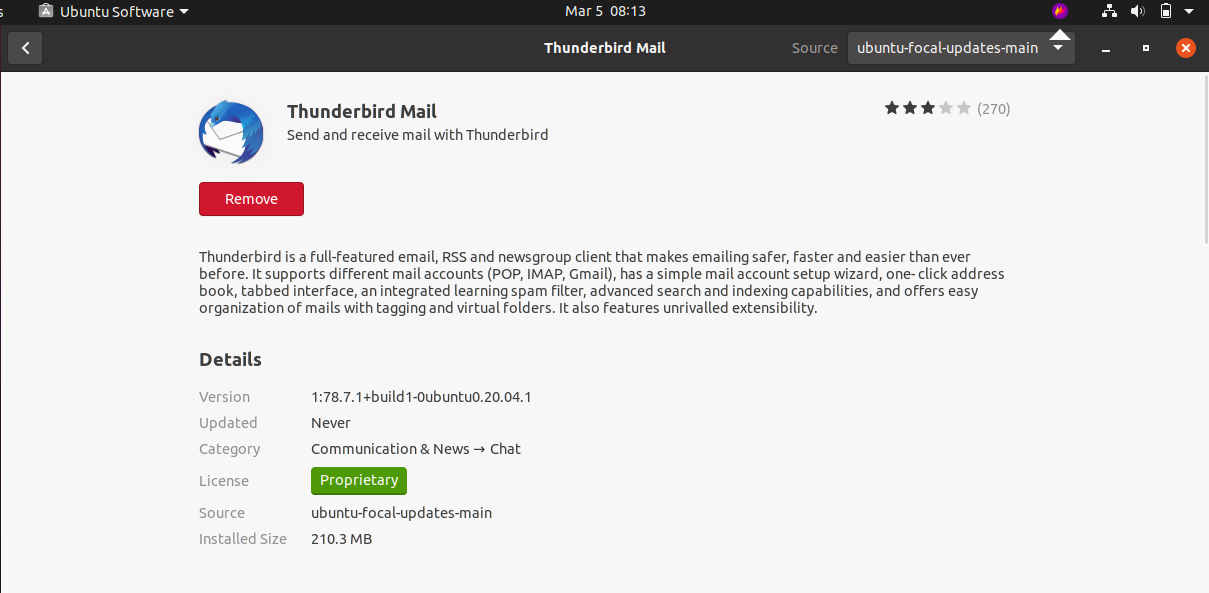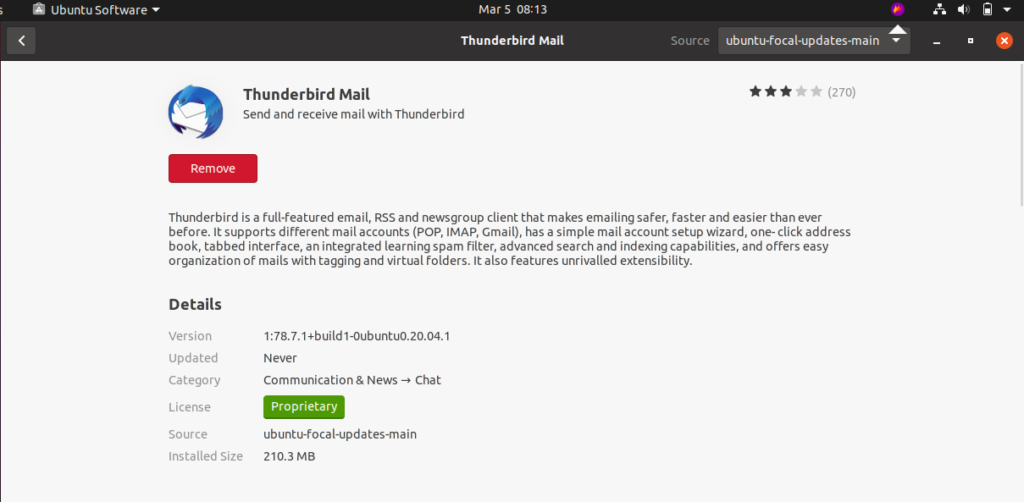 Step 5: Now, you have Thunderbird ready to use on your system. Type 'thunderbird' in the activities search bar and open the application.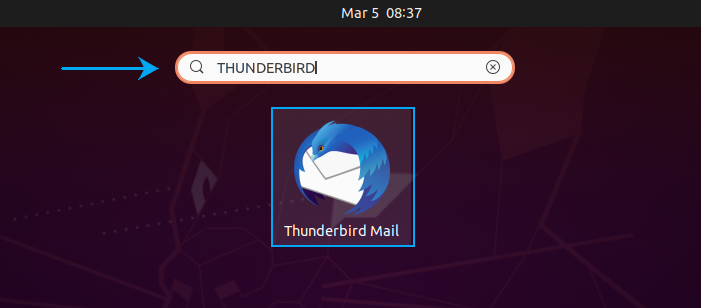 Step 6: Set-up your account on Thunderbird and Enjoy a tremendous mailing experience.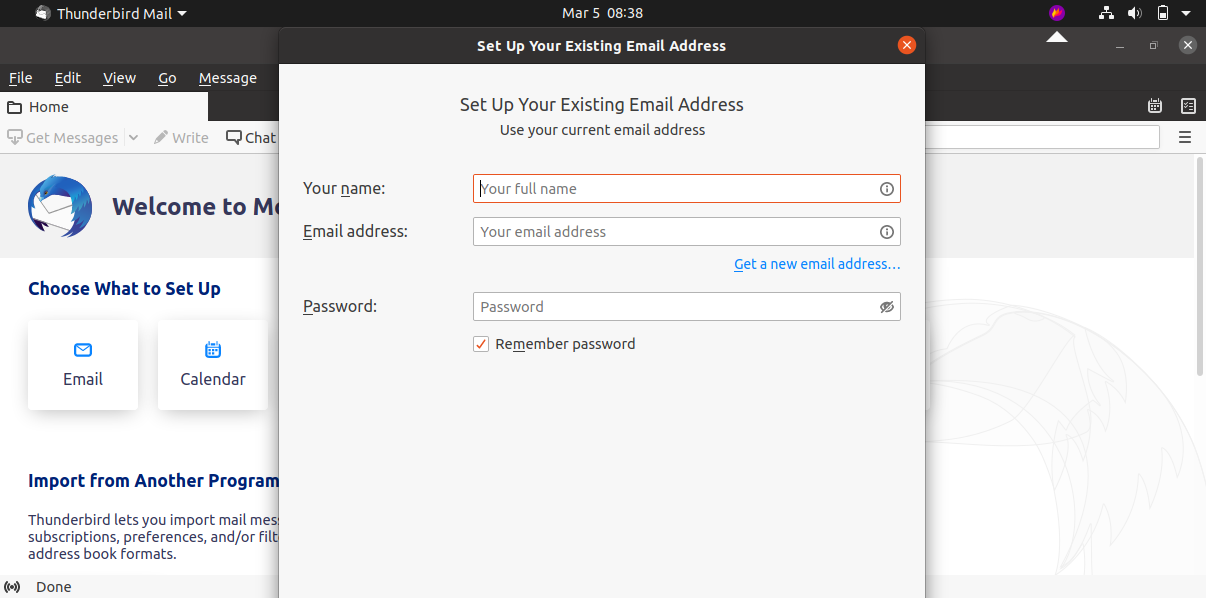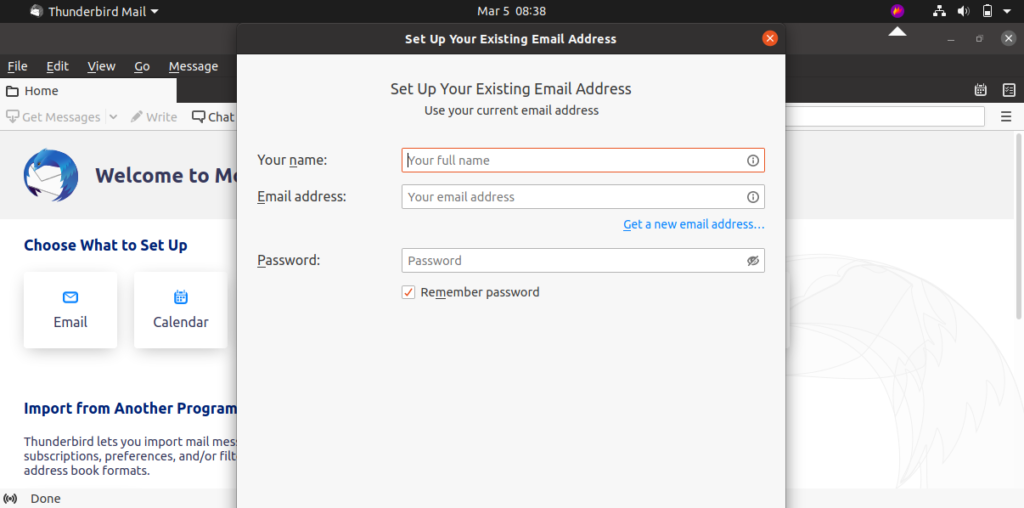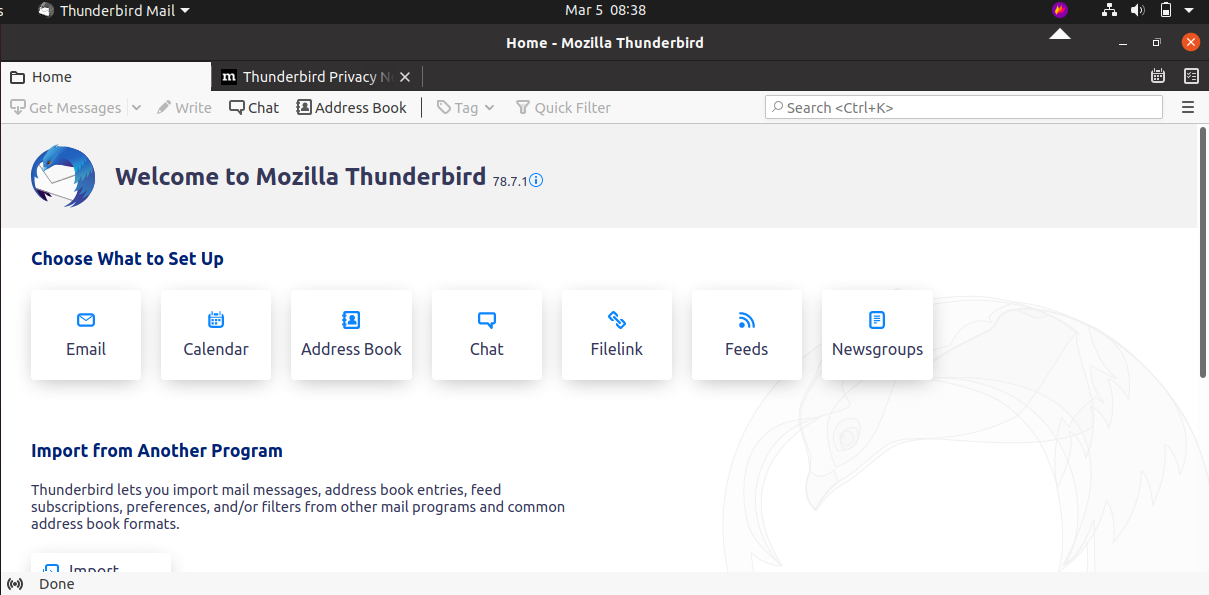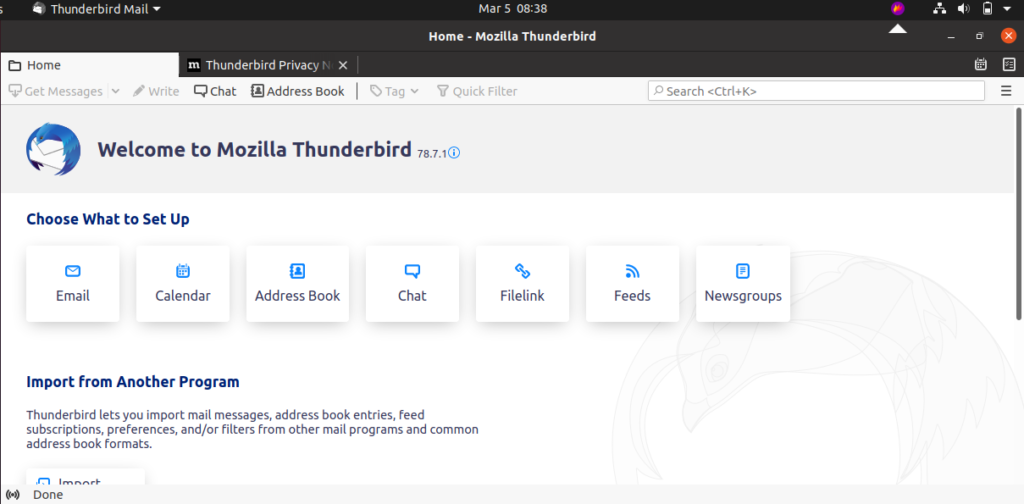 Conclusion:
We provided you the information related to Thunderbird and its features. Furthermore, we have shown you two step-by-step procedures for installing Thunderbird on your Ubuntu 20.04.