Google Docs is an online/offline application that allows a variety of functionalities for creating and modifying text documents. When a user creates a lot of unnecessary documents, then these documents need to be deleted as early as possible. In this guide, we will demonstrate the possible methods to delete all documents in Google Docs.
Let's get started with the first one:
Method 1: Using Sequential Order Delete All Documents in Google Docs
Google Docs provides a feature of different built-in templates and all recent documents via https://docs.google.com. Select the three-dot icon that generates a dropdown list with multiple options.
For this, choose the "Remove" option for deleting the specific document.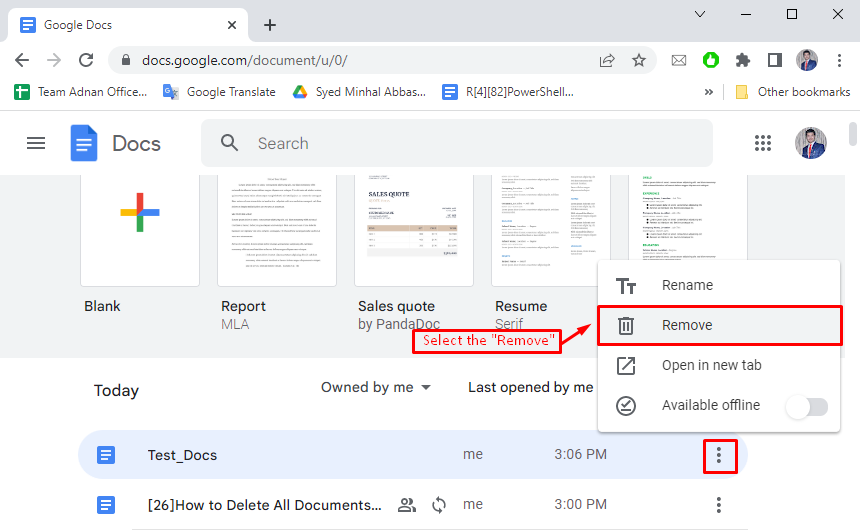 After pressing the "Remove" option, permission is required to move the particular document to the trash, as shown below screenshot: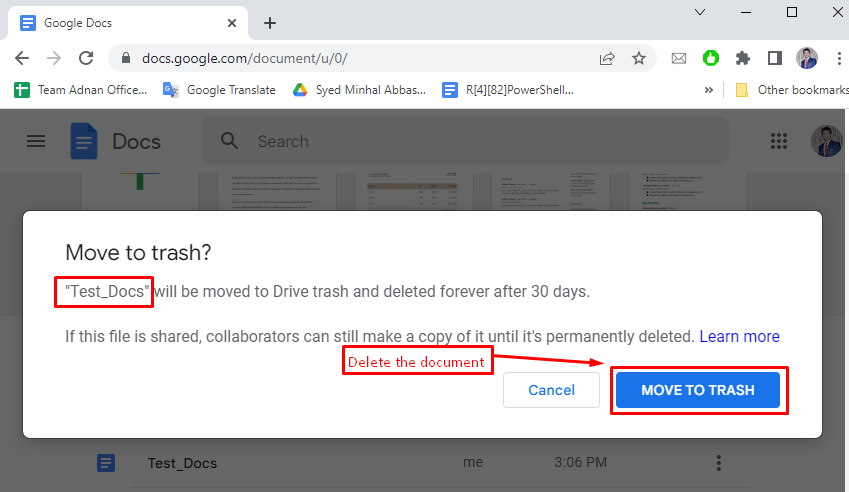 By pressing the "MOVE TO TRASH" button, the specific document is deleted in Google Docs: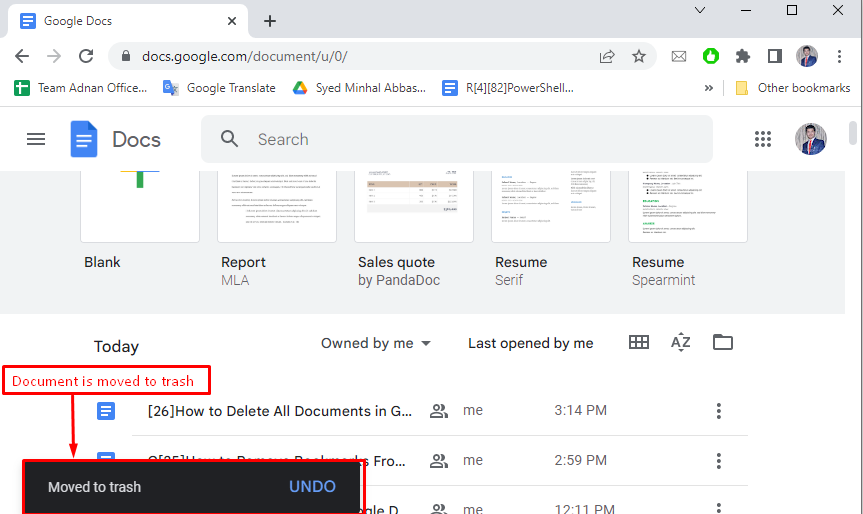 Note: Users can recover the deleted document by pressing the "UNDO" button or shortcut key "CTRL+Z".
Method 2: Delete Multiple Documents at Once in Google Docs
Another method is adapted to delete all documents in Google Docs by selecting all documents via "mouse cursor". Open the Google Docs folder where the documents are placed. Select the documents one by one using the "CTRL" key and the "mouse cursor". This action can be performed using the "CTRL+A" key.
Note: The "CTRL+A" shortcut will select all the files (other than Google Docs) in the folder, so it must be used carefully.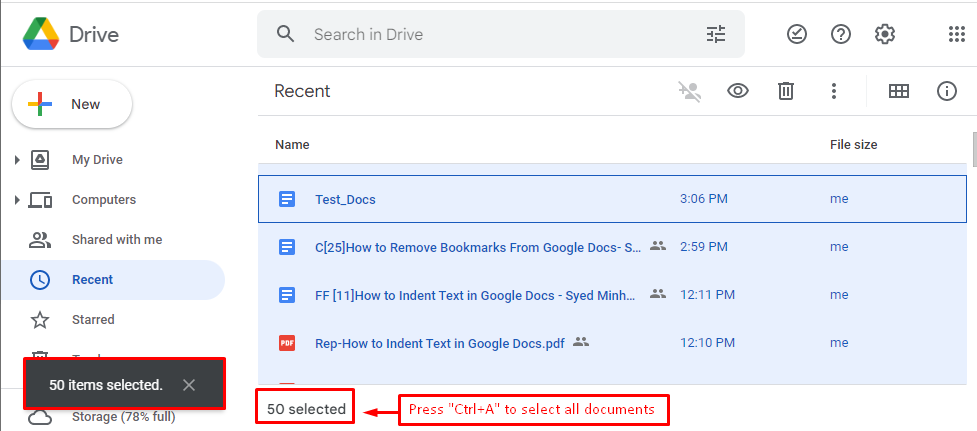 The above figure shows that 50 documents are selected. Afterward, press the "bin" icon to delete all documents in Google Docs.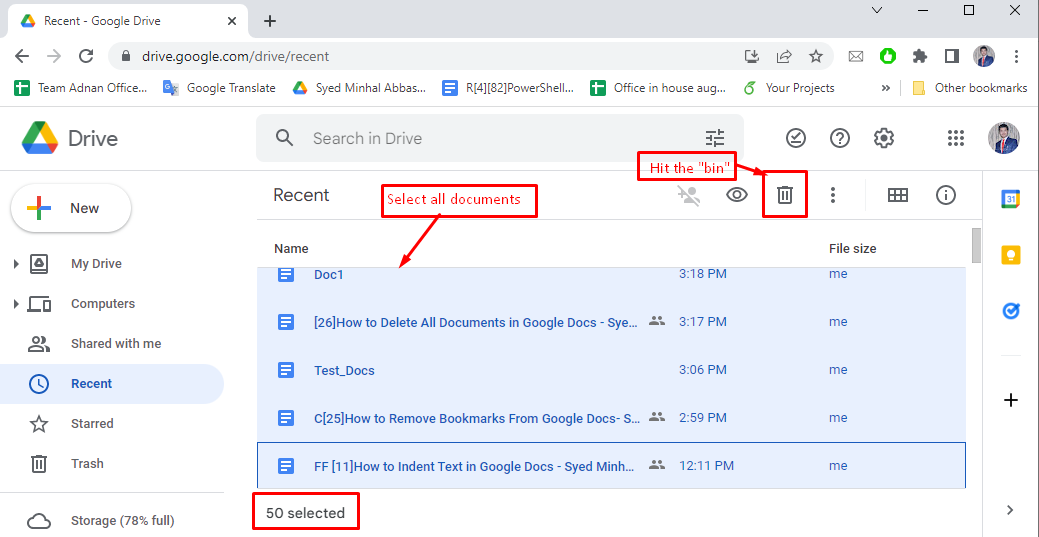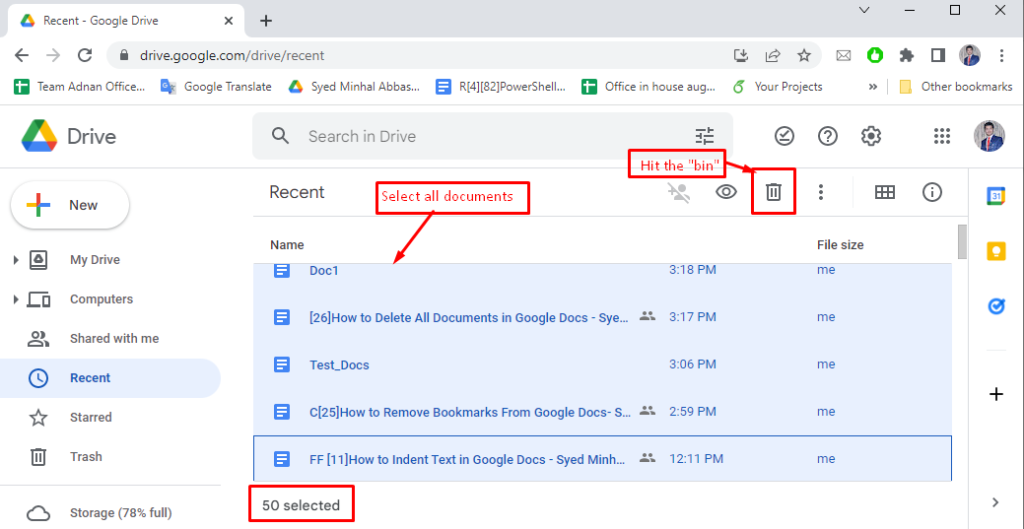 Once done, all the selected documents will be deleted from that specific folder.
That's all from this guide!
Conclusion
Google Docs allows users to delete all documents by "Sequential order" and "Delete All Documents at Once". In the "Sequence order" method, click the "Remove" option via the "three dots" in Google Docs. In the "Deleting All Documents at Once" method, select all documents with the "mouse cursor"with the "CTRL". After that, select the "bin" icon for deleting all documents. Both these methods help resolve the storage issue by removing all unnecessary documents from Google Docs.